Are you ready to return to running following pregnancy?
Running as a form of exercise is a popular choice for new mums for many understandable reasons. Running is a high impact activity and therefore it places high demands on the body. If your body isn't ready to meet these demands it can lead to pelvic floor dysfunction or other musculoskeletal injuries. 
Are you considering returning to running following the birth of your baby?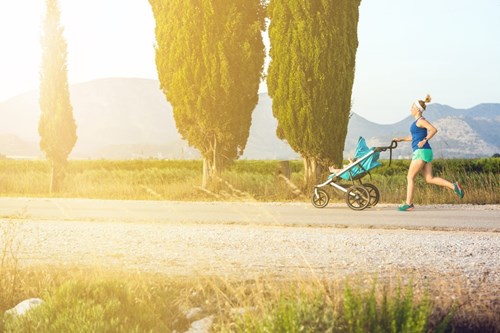 Our pelvic health physiotherapists recommend:
That all postnatal women should see a pelvic health physiotherapist for an assessment following the birth of their baby. We are proud to offer the Mummy MOT® assessment at Spire Manchester Hospital which is suitable from six weeks postnatal, but remember - once postnatal, always postnatal. It is never too late to have a Mummy MOT assessment.
Preparing for a returning to running with low impact strength work such as the physiotherapist-led postnatal Pilates programme at Spire Manchester Hospital which is suitable from around six weeks postnatal.
Returning to running from three months postnatal at the earliest and only if symptom free. Start slow and gradually increase your distance and pace as your body allows. The use of an anti-gravity treadmill (Alter G) can be of benefit when returning to running postnatal.
If you are experiencing symptoms of pelvic floor dysfunction such as leaking urine, faecal incontinence, heaviness in the vagina, lower back pain, pelvic pain or have concerns about your stomach muscles, then running is not advised until these concerns have been addressed. Please discuss these symptoms with your pelvic health physiotherapist or GP. 
Don't compare your postnatal recovery with anyone else. Birth stories and postnatal recovery are unique to each mum. 
For further information on our postnatal physiotherapy service including the Mummy Mot assessment, postnatal Pilates and using the Alter G treadmill please call 0161 447 6900.