New alternative procedure to help minimise the effects of knee pain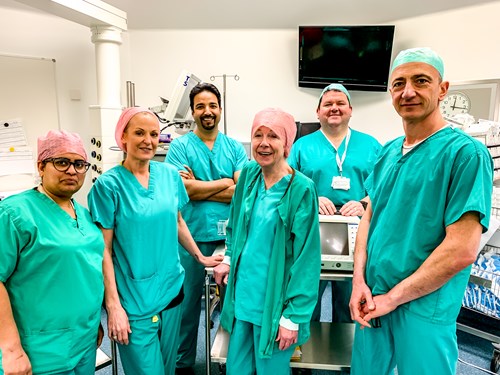 Spire Cardiff Hospital is excited to announce that they recently performed a new non-surgical procedure in their theatre department to help manage the effects of osteoarthritis.
This new procedure called cooled radiofrequency denervation, also known as cooled radiofrequency ablation, is a relatively new, non-invasive, procedure which can be used to relieve pain in the knee.
Osteoarthritis of the knee can affect over 4 million people in the UK and quite often surgery is the definite treatment for extreme cases.
However, not all patients are suitable for surgery, due to co-existing medical problems, and it is shown that one in four people may still be left with severe pain after having a knee replacement.
As an alternative to surgery, cooled radiofrequency denervation provides a new treatment that can't repair arthritis but can ease the pain; helping patients to return to activities with less discomfort and with less medication.
Professor Neeraj Saxena, Consultant in Pain Management and Anaesthetics, at Spire Cardiff Hospital performed the procedure. He commented, "I am really excited to now be able to offer this treatment to patients at Spire Cardiff. Commonly known as 'Coolief', this radiofrequency targets and numbs the nerves responsible for sending pain signals from the arthritic joint to the brain.
"This new procedure should allow patients to consider another option when suffering with osteoarthritis; with successful treatment resulting in pain relief lasting several months to a few years.  It provides the opportunity for people to enjoy more of their time pain free, rather than jumping to surgical options straight away."