Hilary enjoys new active lifestyle after hip surgery at Spire Cardiff Hospital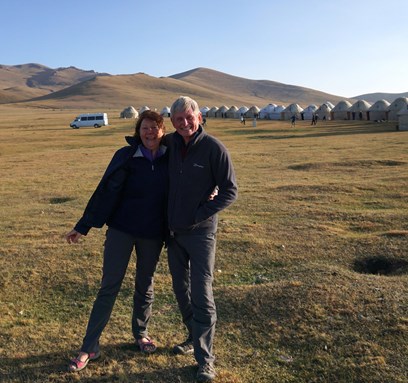 At the age of 32, Hilary always knew that she would need a hip replacement, after being diagnosed with hip dysplasia.
However, it wasn't until Hilary was in her early sixties that she had the surgery, after trying to initially combat the problem through regular exercise.
In 2016 Hilary climbed Snowden, followed by Scafell Pike shortly afterwards, but experienced severe pain on the descent.
Hilary explained, "It all began to go downhill from there. Early 2019 it all seemed to deteriorate extremely quickly to the point where I couldn't drive and I was in constant pain day and night that paracetamol was no longer able to subdue.
"I was told that the NHS list was anything between two and a half years to three years. This was bad news for me as I needed to be able to drive to look after my grandchildren and my Mum who is in her 90s. So, waiting that long was not an option!"
At the age of 62, Hilary met with Mr Maheson, Consultant Orthopaedic Surgeon, at Spire Cardiff Hospital and he explained how anterior hip surgery could help her.
Mr Maheson comments, "I explained the benefits of anterior hip surgery, compared to other hip replacements procedures, and Hilary decided anterior hip surgery would be the best option for her. The procedure provides the potential for less pain, faster recovery and improved mobility and our enhanced recovery programme reduces rehabilitation by approximately half of the recovery time which is a huge benefit to our patients. "
Hilary had the surgery in May 2018 and everything went smoothly, with her feeling well looked after both physically and mentally.
"My recovery was amazingly quick and pain free and three days post-surgery I was back working in my home-based office. I walked with two crutches for a week, then one crutch for a week and then unaided," said Hilary.
"Whilst I did feel slightly vulnerable at home at the start; my weekly physio visits at the Spire with Saskia were super helpful and very encouraging and certainly played a huge role in my speedy recovery."
After the surgery, just a few months later, Hilary had booked to go to the World Nomad Games in Kyrgyzstan. As part of this trip, Hilary spent two days hiking in the Tian Shen mountains.
Hilary explains, "On day one we hiked for 6 hours in temperatures of 25 degrees. We climbed from 1700 to 2450 meters above sea level - so the equivalent of climbing Mount Snowdon! Not exactly what I would call an easy hike!"
Now reflecting on the surgery, Hilary comments on the benefits of the treatment at Spire Cardiff Hospital.
"Life is too short to be waiting around in pain for surgery. When we lived in Germany we paid vast sums of money each month for health insurance. On our return to the UK we decided to continue saving that money for just such an event. It was money very well spent."
 "Today, I frequently forget that I ever had it done. I am pain free and the surgery has enabled me to get back to my very active life with my family and friends. We cycle, swim, go hiking in the Brecon Beacons and along the Pembrokeshire Coastal Path. I've even now joined a gym to ensure I keep mobile and continue to enjoy this lifestyle well into the future."
To learn more about anterior hip surgery or to make a booking at Spire Cardiff Hospital call 0292 060 9351.