Consultants travel to Spire Cardiff Hospital to watch 'impressive' anterior hip surgery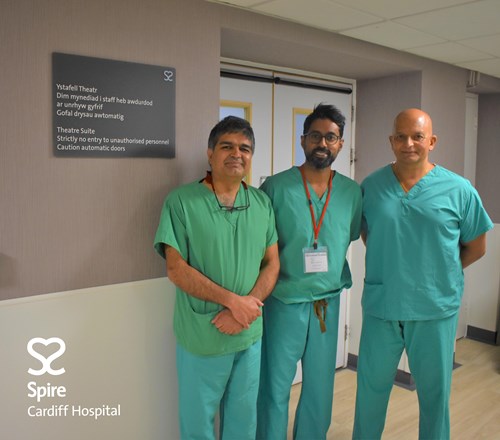 Two surgeons recently visited Spire Cardiff Hospital to learn more about anterior hip surgery from an educational point of view.
Mr Marcellino Maheson, Consultant Orthopaedic Surgeon, specialises in this type of surgery which is an alternative to a traditional hip replacement, providing the potential for less pain, faster recovery and improved mobility within the early post-operative period.
Mr Shankar Thiagarajah, Consultant Hip Surgeon at Doncaster and Bassetlaw Teaching Hospitals explained why he visited Spire Cardiff Hospital for the procedure performed by Mr Maheson on Wednesday 7 August.
 "The direct anterior approach to the hip is a technique I have been trained on during my fellowship. I wanted to gain some further knowledge prior to embarking on the procedure myself during my consultant practice."
Mr Thiagarajah continued, "I found the entire set up extremely professional. The surgical technique used by Mr Maheson was slick and uncomplicated. The end result was very impressive. I certainly gained a number of useful tips and tricks I will use in my practice."
Mr Sanjeev Madan, Consultant Orthopaedic Surgeon,  from Sheffield Children's NHS Foundation Trust and Doncaster and Bassetlaw Teaching Hospitals also observed the surgery. He commented, "Mr Maheson expertly performed the surgery and made it look so easy. I would recommend Mr Maheson as a surgeon; this was a very rewarding and educational visit indeed."
Unlike traditional hip replacement surgery, this technique allows the surgeon to work between the muscles and tissues without detaching them from either the pelvis or thighbones.
This procedure is combined with an enhanced recovery after surgery programme allowing patients to be discharged home in less than 36 hours after surgery and reducing rehabilitation time by approximately half of conventional hip surgery approaches.
Mr Maheson at Spire Cardiff Hospital comments, "I was really pleased to welcome both Mr Shankar Thiagarajah and Mr Sanjeev Madan to Spire Cardiff Hospital. Anterior hip surgery is becoming a popular approach and I hope its benefits will be able to reach more people through these educational visits."
To book or learn more about this surgery book online with Mr Maheson.