Cardiff Met FC are football ready after health checks with Spire Cardiff Hospital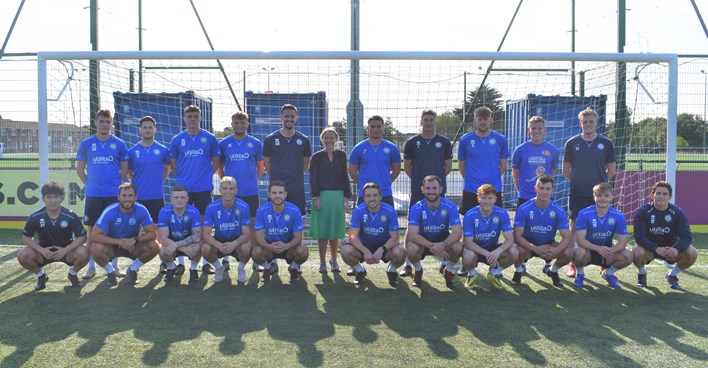 Spire Cardiff Hospital would like to wish Cardiff Met Football Club best of luck in starting the Welsh Premier League 2019/2020 fixtures, after providing the teams medicals earlier this year.
Charlie Corsby, age 27, and current player and coach at Cardiff Met FC is currently taking part in his tenth season at the club and comments, "This year was our first year in the Europa League, which was the first time a British student-based university football club reached the qualification rounds of the competition."
He continues, "The medical and support staff at Spire Cardiff Hospital were extremely helpful, which was comforting. The health screening is an integral part of the medical provision for UEFA, so it was reassuring to know the tests were conducted by experts in the field. I was made to feel this was important for my general health as well as condition to play football."
Having these tests can sometimes be worrying for players with thorough checks including ECGs, blood tests, urine samples, blood pressure and an examination of general physical conditions, but at Spire Cardiff Hospital we provide a comforting and supportive service. 
Emlyn Lewis, age 23, and current player/coach at Cardiff Met FC says, "I was slightly apprehensive about the blood test, however Spire Cardiff Hospital reassured us by giving us a step to step guide in what they need to carry out. This put me at great ease and made the experience as comfortable as possible.
"I would definitely recommend Spire to other sports people. They were very professional but also, made me feel welcome and kept me at ease."
Professor Zaheer Yousef, Consultant Cardiologist at Spire Cardiff Hospital who works with the Welsh FA and Rugby Union, performed ECGs for the team. He explains, "These tests are useful in testing the heart's rhythm and function to make sure the players are physically fit. It was a pleasure to support the team and I'd like to wish them the best of luck in their upcoming games."
Dr Mark Ridgewell, Consultant Sports Physician, at Spire Cardiff Hospital, was the lead for the players' health checks. He comments, "These screenings are crucial to investigating the players' readiness for match performance and also works as a motivator to help improve their fitness. I would like to thank the team for choosing Spire Cardiff Hospital and I hope to work with them again in the future."
At Spire Cardiff Hospital we have experienced consultants and physiotherapists that are available for sport health screenings and to diagnose, manage and prevent everyday problems, as well as sport-related injuries and issues. To book today or find out more information, visit Perform physiotherapy.