One-stop knee pain clinic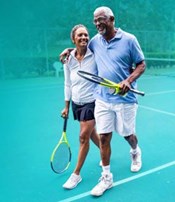 Consultant: Mr Andrew Cossey, Orthopaedic Knee Surgeon 
Clinic: One-stop knee pain
Time: Monday mornings
For anyone that's suffering from knee pain our one-stop clinic provides access to a specialist knee consultant with a fast-tracked consultation, diagnosis and treatment advice all in one visit* for a special price of £750. 
What happens on the day?
An initial consultation with Mr Andrew Cossey, a specialist consultant Orthopaedic Knee Surgeon
A diagnostic investigation such as an X-ray, ultrasound or MRI scan
A same-day follow up appointment to discuss the results of the investigation and provide a diagnosis and proposed treatment plan
This is all completed in one visit fast-tracking the usual process of multiple visits to the hospital. At the end of this consultation process, a personalised treatment plan will be offered to help you get better quicker.
Do I need a referral?
A GP referral letter is not required for self-funding patients, however, Your GP will also be notified of your diagnosis and you may choose to follow the NHS treatment pathway.
For more information or to make an appointment please call 02392 807 205 or email cservice-pt@spirehealthcare.com
* Full terms and conditions
'One-stop knee pain clinic' price package is available for new self-funding patients for orthopaedic consultation appointments. Appointments are subject to availability.
The offer price is only available for appointments with participating orthopaedic knee consultants.
Package includes initial face to face consultation, one MRI knee scan and a follow-up consultation and treatment plan advice. 
The treatment plan describes your diagnosis and recommended treatment - copy of diagnosis and treatment plan to GP and patient
Additional procedures, surgery or other recommended treatment will incur additional charges. Fixed price quotes for treatments will be provided as part of your treatment plan if required.
Please quote 'One-stop knee pain clinic' when booking your consultation appointment. Price package does not include surgery.
Spire reserves the right to withdraw this offer at any time.