Baby Parker a perfect start to New Year after second IVF success
When baby Macie was born following IVF treatment it was a dream come true for Portsmouth couple Drew and Hayley Clutton.
Four years later they decided they wanted to add to their family only to find the fertility consultant who had helped them with the birth of Macie had since retired.
"We had decided the time was right, we had saved the money to pay for the treatment and we were all set for IVF – the only thing was we didn't have our chosen consultant, I have to admit it was a bit of a setback," explained Drew.
"We 'hit the internet' to begin our search but, to be honest, suffered a few disappointments before coming across Mr Ehab Kelada at Spire Portsmouth Hospital. As soon as we met him, along with Lizzy Cawsey the fertility nurse, we thought 'this is the place for us' – everything felt just right."
Now, with new addition Parker nearing six months old, the couple, both hairdressers who live in Waterlooville, say they will be 'forever grateful' to everyone at the hospital.
"One of the most important things in the IVF treatment pathway is feeling relaxed and confident with the people around you. Lizzy and Mr Kelada became real friends – like one of the family really – they even opened up (the) scanning unit over the Easter weekend especially for us. Nothing was too much trouble," said Drew.
The pregnancy all went to plan and Parker was born on New Year's Day - a perfect start to 2019.
Hayley said: "Our advice to anyone looking for fertility treatment would be to put complete trust in your doctor and listen carefully to what they recommend. Take one day at a time as the process can sometimes seem never-ending.
"It can be a very bumpy road full of ups and downs emotionally, physically and financially so both partners must be on the same page and stay strong for each other. But, with the sort of treatment and encouragement we received, the results can be literally life-changing.
"We never gave up hope. Our IVF journey started back in in 2012 – after four years of unsuccessfully trying for a family – and gave us Macie. Now, with the arrival of Parker, our journey is completed and we are enjoying family life to the full."
Mr Kelada, a Fertility Consultant, says he hopes the Clutton family's story will give hope to other couples unsuccessfully trying for children.
He explains: "Nothing can be taken for granted and not all IVF treatments end as happily as they have for Hayley and Drew, but modern medicine moves on at a pace and the treatments we can give continue to improve.
"No-one will tell you it is easy – it isn't. It is important that the would-be parents are kept fully informed throughout the journey. It can be stressful and, to be perfectly honest, it can end in disappointment.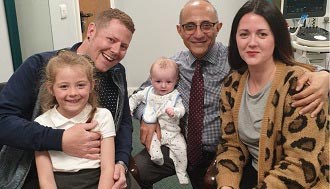 "However, when it results in a healthy birth I think everyone involved will tell you that it was all worth it. I still get a great feeling when couples like Hayley and Drew bring their new baby to see us at the Fertility Clinic. We really do take great pride in their happiness."
Find out more about our Fertility Clinic run by fertility consultant Mr Ehab Keleda.