Spire Parkway Hospital awarded for outstanding cancer and dementia services
At the recent Spire Matrons meeting, Spire Parkway Hospital, in Solihull, near Birmingham West Midlands, were awarded two Spire Exemplar awards for outstanding service in both Dementia Care and Cancer Standards.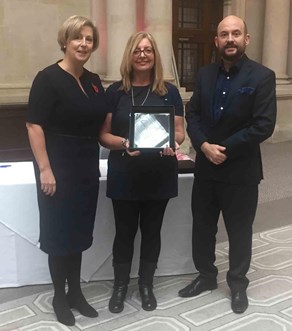 Above: Angie Martin (centre), Matron at Spire Parkway, received the exemplary awards
Whilst Spire Parkway has been offering cancer services for a number of years, the Spire Specialist Care Centre, a specific cancer treatment centre, was opened in 2016 and cancer services have since gone from strength to strength.
"We have a fantastic team with in-depth specialist knowledge along with some experienced and very well respected consultants.
"Our ongoing mission is to make that journey as comfortable and successful as possible. Our team regularly reviews and updates our services and standards to ensure we are offering our patients – and their families – the best possible care and support."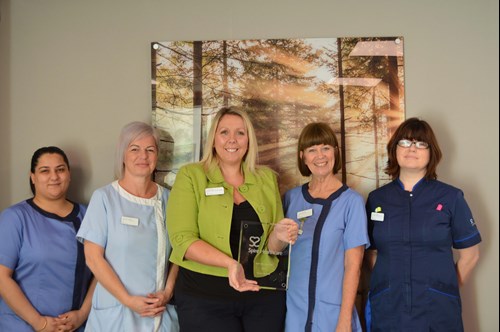 Above: SSCC Team L-R: Babita Kumar, Deb Fraser, Macmillian Cancer Servies Manager Elisa Mills, Laura Williams & Sharon Yates
In 2015 Diana Heinrich began a campaign to make Spire Parkway Hospital more dementia friendly and since then the Dementia services have evolved going from strength to strength.
"Since starting this journey in 2015 I have since become a Dementia Friends Champion – a volunteer who encourages others to make a positive difference to people living with dementia in the community – the community being Spire Parkway Hospital.
I have been involved in the training of 144 members of staff as Dementia Friends, ensured the hospital has the necessary facilities to meet the individual needs of our patients living with dementia, as well as supporting the families of those coming into hospital for treatment."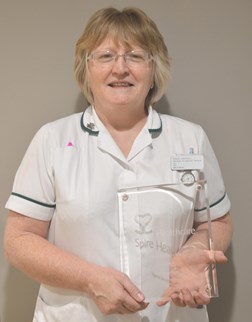 Above: Dementia Lead: Diana Heinrich