MP opens new £1.4m operating theatre at Spire Norwich Hospital
Richard Bacon, MP for South Norfolk, today cut the ribbon to open a new operating theatre at Spire Norwich Hospital.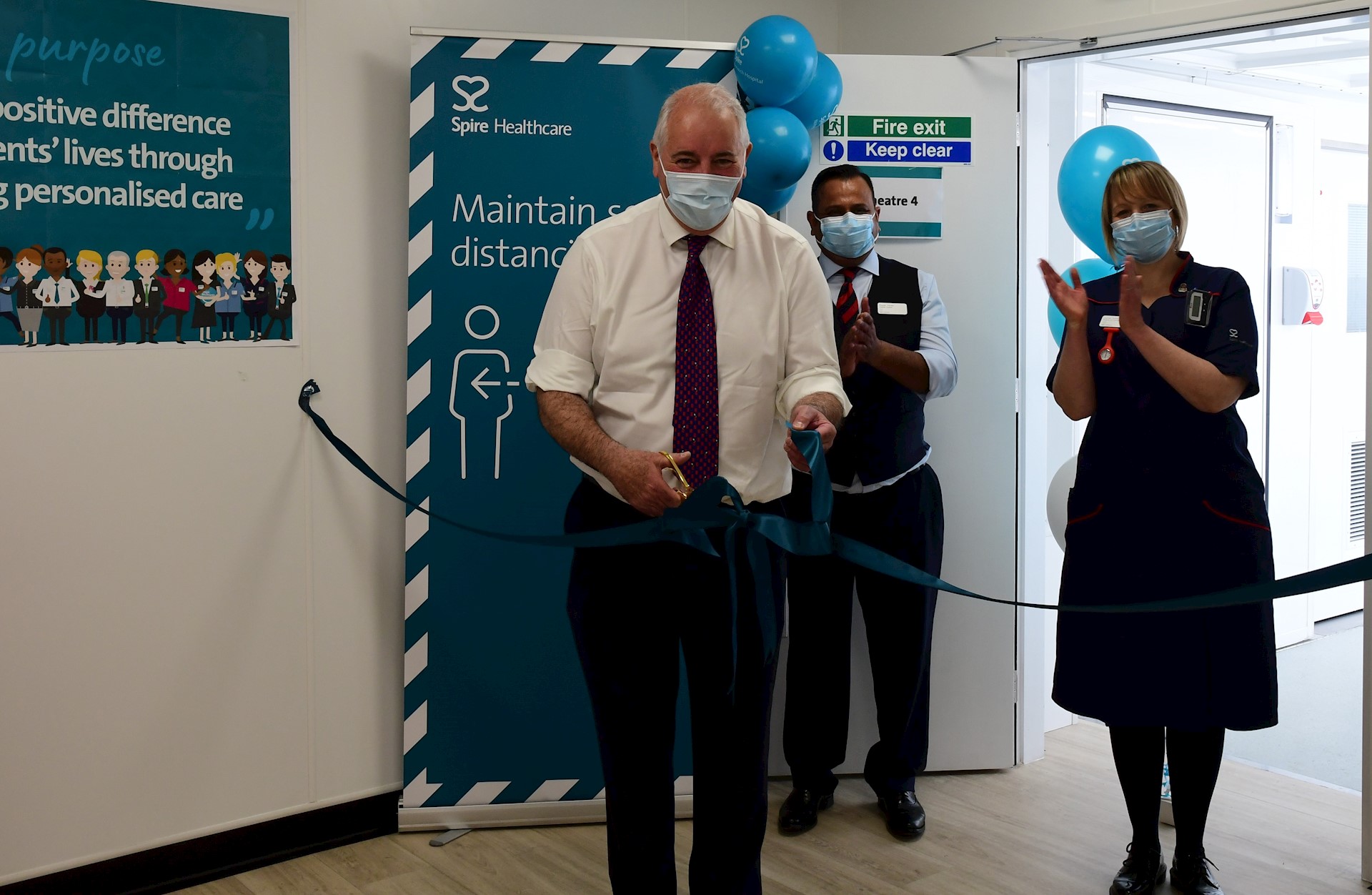 Richard Bacon MP cuts ribbon to open new operating theatre
The new theatre is the hospital's fourth and represents an annual investment of £1.4m. Work on installation began in February. The theatre is a modular unit, and had to be levered into place during a weekend in March using a specialist 750 tonne crane with a maximum boom lift of 52 metres.
The new theatre will be treating around 30 patients a week and will primarily be used for day surgery, including ophthalmology, orthopaedic and gastroenterology procedures. It will expand the hospital's capacity to swiftly treat private patients whose procedures had to be postponed by the pandemic.
Spire Norwich has cared for over 20,000 local patients during the course of the pandemic who would otherwise have had their treatment or diagnosis delayed. The theatre will also be used to care for NHS patients, helping to reduce waiting times and the size of the overall waiting list.
The new theatre is part of a bigger investment programme at Spire Norwich. Last month, it unveiled a new, £1.3m state-of-the-art CT scanner.
Nayab Haider, Hospital Director at Spire Norwich Hospital, said: "At Spire Norwich Hospital, we offer fast access to expert care with leading specialists, in a hospital where safety comes first. We are really pleased to be opening this new operating theatre, which will enable us to treat more patients, even quicker, in a comfortable environment.
"We're delighted that our local MP, Richard Bacon, has joined us today to open the new theatre."
Richard Bacon MP, said: "Spire Norwich Hospital makes an important contribution to local health provision in Norfolk and I am pleased to see this new investment in a fourth operating theatre, which will mean that more patients are treated more quickly. As the NHS fought successfully to deal with a global pandemic, its ability to deal with other areas of medicine has unavoidably been affected. Investment in extra capacity in the health system is therefore a very positive development. I am particularly pleased that the new operating theatre will also be used to treat NHS patients and so help to shorten waiting times. I congratulate everyone at Spire on the hard work which has turned this new investment into reality."