Isle of Man patient treated for gallbladder disease at Spire Manchester Hospital
In February 2021, 71 year old Kit from the Isle of Man suffered a severe episode of cholecystitis, a condition caused by inflammation of the gallbladder. Having stayed in hospital for four nights and then having waited eight weeks for an appointment to see a local surgeon, Kit sought further advice from his GP.  It quickly became clear that the gravity of the situation meant that his gallbladder would have to be removed as soon as possible.
Kit was concerned that this might not be a straightforward process and that the skills might not be available on the Isle of Man to deal with any complications arising during the surgery. He was anxious at the prospect of waiting to undergo surgery, so he made the decision to take the private healthcare route. His insurance company provided him with a list of consultants in the North West of England, and Kit decided to proceed with Consultant General Surgeon Mr Christian Macutkiewicz at Spire Manchester Hospital.
This turned out to be a wise decision and there was no time to waste, as Kit had an empyema of the gallbladder, an uncommon complication of cholecystitis in which the gallbladder is full of pus.
Life changing and life-saving surgery
Mr Macutkiewicz echoed Kit's concerns on the need to act swiftly. He says, "Kit could easily have become septic while waiting for his operation on the Isle of Man, which of course is life-threatening."
Aside from the medical urgency of the situation, Kit was desperate to return to the lifestyle that he had previously enjoyed. Prior to falling ill, Kit had been a keen golfer, as well as regularly walking and cycling, so this period of inactivity impacted him mentally as well as physically. 
On May 20 2021, Kit underwent a laparoscopic cholecystectomy with operative cholangiogram. The outcome was a resounding success; Kit made a swift recovery thanks to a strict fitness regime and his golfing skills have actually improved!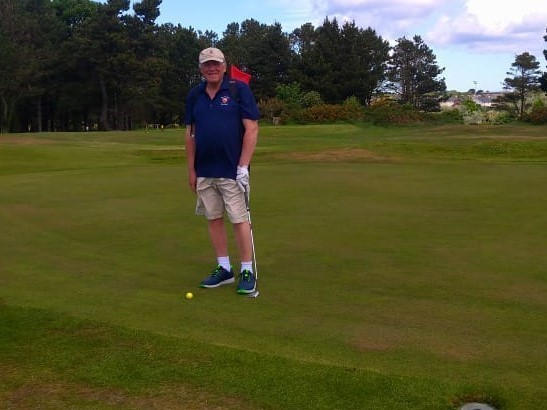 Photograph of Kit golfing, taken just two weeks post-operation
Renewed health and happiness
Following his surgery, Kit's health has improved hugely. He has lost a considerable amount of weight thanks to his increased physical activity, but most importantly, he is now free of pain.
Commenting on the care he received from Mr Macutkiewicz, Kit says, "Thank goodness we chose Christian. From the outset he was friendly, informative and helpful. After the initial consultation, I knew we had made the right choice.
"He gave me enormous reassurance and confidence that I was in the very best hands. As well as this, everybody at Spire Manchester Hospital was welcoming and efficient. I was even chatting to the anaesthetist and porters just before going into theatre. The food was excellent – I was surprised that I was able to eat a small breakfast the next day."
Mr Macutkiewicz says, "When I first met Kit, it was clear that he was struggling and in a lot of pain; the fact that we managed to do his operation at Spire Manchester Hospital has given him his life back but also ridden him of the fear of the illness returning.
"His health after his operation has been fantastic and Kit even sent me a video of him playing golf once again, which brought a huge smile to my face when I watched it. Times like this remind me why surgery is such a rewarding career."
Read more about gallbladder removal at Spire Manchester Hospital.