Patricia offers hope to blood cancer sufferers
It was the best Christmas present she had ever received!
Almost two years ago, as she was putting the finishing touches to her Christmas gift wrapping Patricia Baggott received a call to tell her she was 'cancer clear' after treatment for lymphoma.
Now, the 67-year-old grandmother and former company director, is hoping to give hope to others as her contribution to Lymphatic Cancer Awareness campaigns running this month.
Patricia, of Essington, near Wolverhampton, went to her doctor after a pain in her side gradually spread to her lower back and into her groin. 
At first Patricia thought 'I have kidney stones' – a problem she had suffered from in the past.
But tests at Spire Little Aston Hospital revealed that she had lymphoma - a type of blood cancer that starts in the lymphatic system. In Patricia's case it had reached the lining of her chest cavity.
She met with consultant haematologist Dr Shankar Paneesha who ordered a biopsy to be carried out before she embarked on six sessions of chemotherapy.
"I was in deep shock," said Patricia, "But Dr Paneesha was very reassuring and told me there was no reason why my illness couldn't be successfully treated.
"During chemo I had good days and bad days - on good days I continued with my office work and kept busy and on bad ones I simply rested. To be honest the worst thing for me was losing my hair, but I quickly remedied that problem by buying a by a wig - or two!
"But throughout the treatment Dr Paneesha kept my spirits up and my attitude positive. That's why I'm hoping my story gives hope to other sufferers – no-one wants cancer but it doesn't mean the end. It can be beaten," said Patricia.
Dr Paneesha explained: "Lymphoma is a type of blood cancer that starts in the lymphatic system. Patients can present with a variety of symptoms but the most common ones, and the ones that people should watch out for, are night sweats to the extent that you have to change your nightwear or even your blankets; persistent swelling usually in the neck, armpit or groin; consistent tiredness or lethargy.
"As some of these symptoms can easily be mistaken for the effects busy life, menopause or simply getting older, people can ignore them thinking that they will pass.
"I would urge people to contact their GP if they have any of these symptoms for over a fortnight. Although lymphoma is the fifth most common cancer in the UK it is also very treatable if detected early."
Once Patricia's chemotherapy sessions were completed she was given a CT-PET scan which showed she was cancer clear and called into the hospital so that Dr Paneesha could give her the great news.
"Obviously I was thrilled. Christmas can be a very emotional time anyway so imagine how I was when I got this news at the height of the festive season," said Patricia.
"I really couldn't have asked for a better Christmas present and I really have Dr Paneesha and the Spire Little Aston staff to thank for it," she said.
Now having check-ups every three months Patricia, who runs Wolverhampton-based company ABA Cranes Ltd with her husband Arnold, is delighted to say she is still cancer clear and looking forward to the coming Christmas 2017 with even more enthusiasm than usual.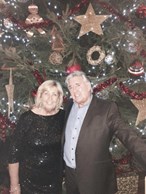 For more information about Lymphoma Awareness visit:
www.lymphomas.org.uk/lymphatic-cancer-awareness-week-2017
https://www.lymphomacoalition.org/