"Here comes the sun – so get covered up" warns David
Keen sportsman David Owens has never been a sun worshipper, uses factor 50 sunscreen and prefers to stay in the shade – but he still developed skin cancer!
A cyclist and a roadrunner for many years, David, who lives in Rosliston with wife Jo and teenage son Griff, admits he has spent a lot of time outdoors – but stayed out of the sun whenever possible.
So when he first noticed a mark on his wrist he didn't pay it much attention.
"It changed shape a bit but actually looked like the Batman symbol – weirdly cool I thought," he joked.
"However it continued to change, and after a while I went to see my GP but was just told to photograph it and keep an eye out for further changes."
But when a black dot appeared David, a Wealth Director for a large financial service, insisted that he was referred to a skin specialist.
After a couple of 'unsatisfactory' meetings with other consultants David finally met with Dr Manjit Kaur, a Consultant Dermatologist at Spire Little Aston Hospital and was diagnosed as having Stage 2 Melanoma.
He explained: "I had already had the mole removed at a previous hospital but Dr Kaur advised that I should have a wider incision as well as a sentinel node biopsy – I really did feel that I was in the hands of experts."
Dr Kaur said: "Melanoma is the fifth commonest cancer in the United Kingdom and its incidence is rising. The earlier that melanoma is detected and treated the better the overall prognosis for the patient. We'll be monitoring David regularly and I have recommended that he takes extra care to protect his skin adequately. In addition, my advice for anyone concerned by sun damage is that there is no substitute for examining the skin regularly for any new or changing moles or skin lesions and if in doubt make sure you consult your GP or a dermatologist early'
Now David has quarterly check-ups with Dr Kaur and has advice to others who spend a lot of time outdoors: "Use Factor 50 and keep you skin covered whenever possible."
He said: "I'm an active person. I've run sub-3 hour marathons and cycle raced, but I suffer from hay fever so summer was always a time to stay indoors as much as I could when young. I'm not a sun lover and I burn easily so I always use factor 50 and prefer the shade - yet melanoma still got me!"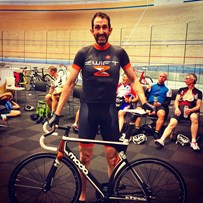 "If I had my time again - I'd use factor 50 from April to October and I'd wear long-sleeves tops when out running or on the bike – sun tans may be fashionable but if that is the case then I say stuff fashion!  
"Cyclists often post pictures of their sun-burn as if it's a mark of passage - if only they knew what they were doing to their skin. I really wished that clothing manufacturers - both non-sport and sports - provided summer clothing that offered more protection from the sun."
If you're concerned about your skin, contact our patient treatment advisers to book an appointment with Dr Manjit Kaur on 0121 580 7119.