Common running injuries and what to do about them
People often assume that running alone will result in the strength required to run a full marathon course. This will work for some and particularly those who have a pre-existing level of fitness and muscle strength. For others, what will happen is that muscles will not cope with the work demands and the repetitive motion of running over long distances and often on hard surfaces.  It will cause them to tighten due to work overload, work less efficiently at maintaining your running posture over time (giving rise to areas which can become sore and inflamed).  It can also potentially result in increased loading through your joints and bones. In short, a lack of appropriate strength in the leg muscles can result in nearly every one of the injuries described in our introduction to this series of blogs, here.
A simple program of strength exercises can be incorporated into your training to counter these problems. It does involve a time investment over and above what you are already committing to with the running, however, in our experience, it can prevent frustration at having to stop and the potentially increased expense of reacting to an injury rather than proactively preventing it. It is a common occurrence to meet runners injured in the latter stages of marathon training where the long runs really are long. Getting injury-free again in time for the race at this point is always tough and doesn't always end up with the desired outcome. A 20-30 minute strength program done at home or in the gym 2-3 times a week could be enough to prevent all manner of problems and could even improve your eventual performance!   
1: Sideways band walks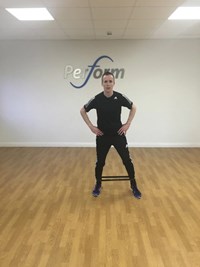 Slight bend in knees and hips, keep body upright and feet facing forwards. Move foot out to side stretching the band. Slowly bring other foot across until legs are close together again. Repeat 10 steps to each side x 3.
2: Forward band walks
Body position as per sideways band walks. Move right foot forward and diagonally out to the right. Allow left foot to follow to midline then angle forward and out to the left side. Repeat 10 steps each foot x 3.
3: Backwards band walks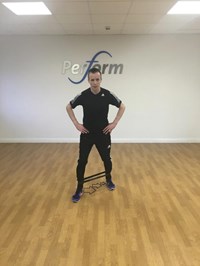 Body position as per sideways band walks. Move right foot backwards and diagonally out to the right. Allow left foot to follow to midline then angle backwards and out to the left side. Repeat 10 steps each foot x 3.
4: Calf raises on a step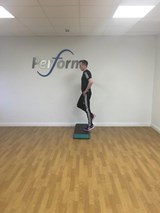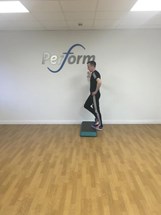 Place one hand on a wall for balance. One forefoot on step (other leg lifted clear of step). Raise heel and slowly lower. Keep knee straight. Repeat 3 sets of 10 – 15 reps. An alternative is to complete the same exercise with the knee slightly flexed (20 degrees) thereby targeting the soleus part of the calf complex. You can alternate which exercise you do each session.
5: Step up with leg drive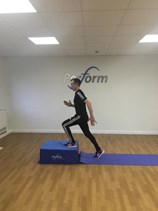 Start with weight primarily on the front leg, keeping the knee in line with foot and pelvis horizontally level. Press front foot down onto step and drive up onto front leg, drawing the other knee up into running stance. Slowly return to start position and repeat, 3 sets of 8 - 12 reps.
6: Single leg squat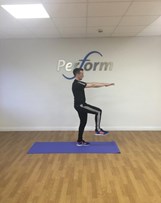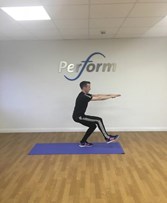 Stand on one leg – arms out in front at shoulder height. Slowly flex standing hip and knee whilst maintaining your back as upright as possible. Return to start position and repeat 3 sets of 8 – 12.  Stand next to a wall for balance if you are unable to maintain this independently.
7: Single leg hamstring bridge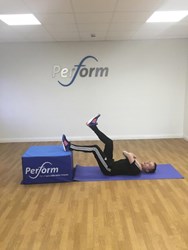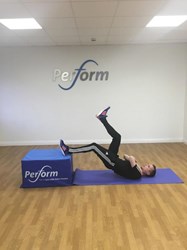 Lie on back with one heel resting on bench/block as shown. Cross hands in front of shoulders and raise the other leg up in the air. Tilt the pelvis, flattening back on the floor, then press the heel into bench/block and raise pelvis until the hip on the loaded leg is extended. Slowly lower back towards the ground without fully relaxing and repeat 8-12 reps x 3. If this is too difficult on one leg, place left and right heels on bench/block and lift using both.
8: Dead bugs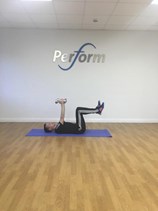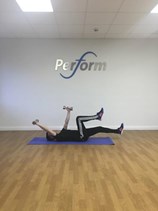 Lie on your back with arms and legs raised in the air, as shown. Your lower back should be relaxed on the floor and you should not be over-tensing your abdominals – breathe! Slowly lower one arm and opposite leg towards the ground. Move slowly enough that your lower back does not lift. Do not fully extend arm and leg if this happens – lower with elbow and knee bent so that you are using shorter levers and hence the exercise is easier. You can add light hand weights to increase the difficulty if you are able to manage without. 2 – 3 sets x 10 each diagonal.
9: Gym Ball Plank with Leg Drive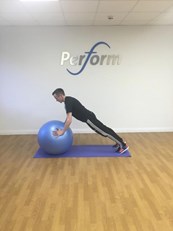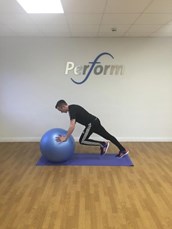 Lean with hands resting on either side of a gym ball, as shown.  Your lower back should maintain its normal alignment as if you were standing upright.  This position is quite difficult and it is often easier to begin with the ball resting against a wall to increase the stability of the position.  Slowly lift one foot and flex the hip as if running without changing your back posture.  Slowly return to start position and switch to the opposite leg.  Complete 2 sets of 10 reps each leg.
We hope you find this resource useful and wish you the best of luck with your training.
Should you wish to discuss an injury in more detail with one of our highly skilled team of physiotherapists, please contact us on 0121 580 7131 or email birmingham@spireperform.com.