Spire Gatwick Park Hospital awarded Centre of Excellence for the Elipse™ procedure
Spire Gatwick Park Hospital has become the first UK Centre of Excellence for a weight loss technique which requires no surgery, the Elipse™ balloon.
In the past 18 months, more than 400 patients from across Surrey and Sussex have lost an average of 15% in weight thanks to a swallowable gastric balloon, called Elipse™, inserted by bariatric surgeon Mr Simon Monkhouse at the hospital's weight loss clinic.
Before and after the painless procedure, patients are supported in their weight loss journey by nurses and a dietician with access to a psychologist if needed. This holistic approach, and the experience of Mr Monkhouse, has inspired Allurion Technologies, creators of the Elipse™ gastric balloon, to make Spire Gatwick Park the only UK Centre of Excellence.
There are 26 clinics in the UK offering the Elipse™ balloon and the procedure is used in 45 countries - with only 6 Centres of Excellence worldwide.
"Becoming a Centre of Excellence means everything – a validation of our team, our expertise, our experience and the quality of our care, " said Mr Monkhouse. "Many patients get in touch with me to share their success stories - it is wonderful to see how losing weight has changed their lives. For many, it has given them confidence to enjoy their social and work lives once again, the energy to take part in family life and new activities, and, importantly, they are healthier."
One of Mr Monkhouse's patient is 58-year-old Nikki Taylor, from Tunbridge Wells, who recently lost 3 stone in just over 3 months, thanks to the Elipse™ balloon and the support she received from Spire Gatwick Park weight loss clinic, which she says "has been life-changing".
"I am not surprised they have been awarded a Centre of Excellence," says Nikki. "Right from the beginning, you feel that everybody cares and they feel responsible for your weight loss. Their desire is your desire and that comes across. They wanted me to achieve from this experience."
"I did it for my health. At only 5ft 2 inches, my weight of 15 stone 7lbs had become an issue - I was in pain with my knees, I couldn't exercise, and every day was an uphill battle. I had tried every diet going but what I needed was a complete change of mindset which the combination of the balloon, counselling and diet advice gave me."
Nikki says she now looks forward to days out, like a recent trip to the Epsom Derby - something she would have avoided in the past because of her weight.
"I have gone down two bra sizes and two dress sizes and am walking every day and exercising on a treadmill twice a week" she adds. "I am still overweight - I am never going to be skinny - but I now have the confidence to carry on and lose more weight."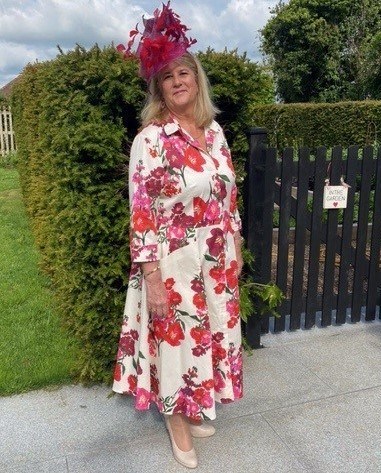 The Elipse™ procedure, which takes just 20 minutes, involves a patient swallowing a gastric pill into the stomach, where it is then inflated to roughly the size of a grapefruit. There is no need for surgery, endoscopy or anaesthesia. The balloon remains in the stomach for approximately four months allowing patients to feel fuller for longer after eating relatively small meals. After this time, the balloon naturally deflates and is passed safely through the digestive tract.
"Our Centres of Excellence are a unique group of clinics across the globe which have been selected based on strict criteria, including quantity, experience, consistent patient results and reviews," says Sarah Cooper, spokesperson for Allurion Technologies. "Having placed over 400 Elipse™ balloons himself, Mr Monkhouse is highly skilled, personable, and the whole healthcare team around him, from dietitians, nurses, and psychologists, offer patients exactly the right tools and support they need to achieve their goals."
If you wish to seek advice from our Weight Loss Surgery Team or book a consultation with Mr Monkhouse, please call on 01293 778 906 to find out more.