Spire Cardiff Hospital sponsors WNO's Come & Sing! Hospitals Programme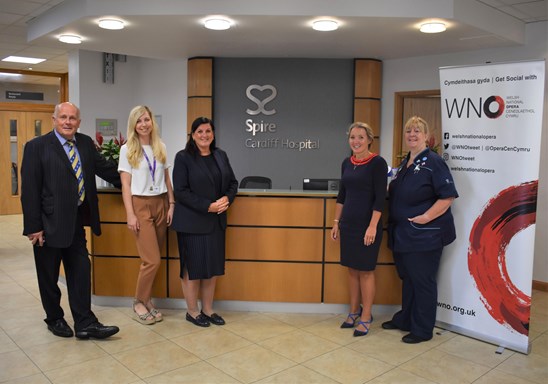 Spire Cardiff Hospital is excited to announce that they have partnered with the Welsh National Opera (WNO) to sponsor their Come & Sing! Hospitals programme.  
In support, Spire Cardiff and Mr Mike Lewis, Consultant General and Vascular Surgeon, have united to fund this cause, in a commitment to help elderly patients through the power of music.
This program focuses on providing hour long 'come and sing with us' interactive music sessions every Friday to the older persons ward at the University Hospital of Wales, Cardiff, and the older persons ward at St David's Hospital, Cardiff.
The creative team sing with patients on the ward with a repertoire that is cross-generational with popular songs that the audience will enjoy.
The success of the programme began after the WNO delivered a five week pilot at the hospital in 2017. During this period WNO Vocal Animateur Kate Woolveridge and Répétiteur Nicola Rose achieved great results creating a sense of happiness on the ward, improving interaction between patients, staff and connecting people.
Following the overwhelmingly positive impact of the pilot, in May 2018 WNO commenced weekly sessions on the ward.
Heather Dob, Hospital Director, at Spire Cardiff Hospital said, "This was first brought to our attention by Consultant Mr Mike Lewis who had seen the singing programme and its benefits at the University Hospital of Wales. We were convinced the project had to benefit patients and, therefore we were delighted to be able to support the project with Mr Mike Lewis at Spire Cardiff, to help as many patients as possible, many who have dementia."
Mr Mike Lewis added, "I am delighted to be supporting the Welsh National Opera's singing programme with Spire Cardiff Hospital. After witnessing the response of these patients at the University Hospital of Wales, I was eager to help, and knew Spire Cardiff Hospital would be passionate for the cause.  I look forward to seeing the program increase the quality of care to patients with dementia across Wales."
Emma Flatley, WNO's Director of Engagement and Partnerships said "We are delighted that Spire have chosen to support our hospital programme, which is part of a wide range of community work. We're committed to extending our reach into the healthcare sector, using arts to help improve people's health and wellbeing. Spire's support means we can continue our community work in hospitals with confidence over the next year."
Spire Cardiff Hospital has a dementia lead nurse and runs regular sessions with their team to ensure they offer the best possible care to all patients with dementia.