Spire Healthcare's largest ophthalmology suite opened at Spire Cambridge Lea Hospital
£500,000 upgrade increases hospital's ophthalmic capacity by up to 50 percent
Multi-million-pound investment to deliver greater treatment choice and
faster access to personalised eye care
Spire Cambridge Lea Hospital has opened a new £500,000 ophthalmology operating suite to expand the choice and availability of eye surgery and treatments including for glaucoma, cataracts and age-related macular degeneration. Opened by Spire Healthcare's CEO Justin Ash, Spire Cambridge Lea's new ophthalmology suite is the largest in the Spire network and complements the hospital's five existing surgical theatres, which are all designed to deliver the care in the most modern and safest environments.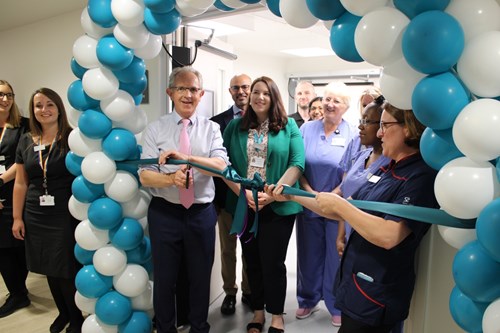 Through the upgrade and using the latest techniques and range of new diagnostic instruments, consultant ophthalmologists and specialist theatre colleagues are now able to deliver personalised care for up to 50 percent more patients each week. This work is part of an on-going multi-million-pound investment at Spire Cambridge Lea Hospital, including a programme of re-modelling and modernisation of patient areas to improve comfort. The hospital also recently installed a new £1m CT scanner which delivered more than 300 NHS and private patients with diagnosis scans in its first three months of use.
The new ophthalmology suite and the hospital re-modelling has also freed capacity in the hospital's main operating theatres for other treatments including joint replacements, back surgery and gynaecology. This additional general operating theatre capacity will enable Spire Cambridge Lea Hospital to accept more NHS and private patients, therefore helping reduce local NHS waiting times for patients needing this care.
Neil McCullough, Hospital Director at Spire Cambridge Lea Hospital, said: "At Spire Cambridge Lea, we operate the largest ophthalmology practice in the Spire network. We are dedicated to providing patients from across the region and beyond with access to fast diagnosis and a wide range of treatments, whenever they need it."
Justin Ash, Spire Healthcare CEO said: "I am delighted we are investing in state-of-the-art clinical facilities like this new ophthalmology suite and delivering upgrades and improvements across our Cambridge Lea Hospital. It demonstrates our focus on constantly improving the access, clinical care and comfort our patients have come to expect."