Endometriosis - one woman's diagnosis and treatment journey
Lucy Pickett has suffered from symptoms of endometriosis for almost half of her life but it took years and many clinical consultations, hospital admissions and being treated twice for sepsis, a potentially life threatening condition, before her condition was formerly diagnosed.   
Now 27 years old, Lucy is a successful illustrator and author of children's books and currently lives and works in London. She is symptom-free after successful keyhole surgery at Spire Cambridge Lea Hospital under the care of Consultant Gynaecologist, Mr Mabrouk. However, and like so many women with endometriosis, her journey to a diagnosis, treatment and now knowing with certainty she will be able to have a family has been long and difficult.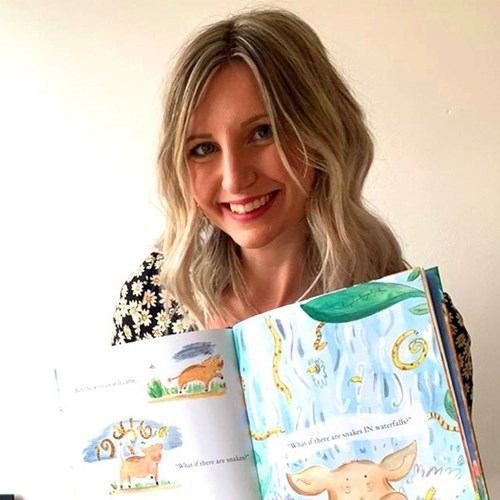 Lucy showing one of her illustrated books
Endometriosis is unpredictable, I still get anxious about the future of living with the potential of it returning but I feel massively reassured because I have a brilliant team right behind me and my care. I'm so much more confident about my future knowing Mr Mabrouk and his team are there to listen and help when I have concerns and should I require more surgery in the future, it will be OK based on my great experience and outcome last time. I owe everything to Spire Cambridge Lea and Mr Mabrouk. They have changed my life.
My story is not a straightforward one but starts off in a fairly usual way for women suffering from endometriosis. I'd had what I now know are fairly typical symptoms from the age of 13, including bleeding in between periods and debilitating pain. I was put on the contraceptive pill and told "Maybe you are simply not used to your periods yet."
In 2019, whilst at home with my family I collapsed in severe pain. I was rushed to A&E and fell seriously ill with sepsis caused by abscesses in my ovaries. They had grown to 5cm, causing bouts of extreme pain and the more worryingly, sepsis.
Sepsis x 2
Sepsis is a potentially life-threatening condition caused by the body's response to an infection. I was given the option to either undergo emergency surgery, removing my ovaries and fallopian tubes or try a very strong dose of antibiotics. I have always wanted to have a family at some stage so opted for the antibiotics which fortunately worked and I was discharged six days later. Sadly two months later it happened again but once again the antibiotics worked. During the diagnosis of the abscesses and treatment for sepsis, I was told the clinicians had discovered I had endometriosis but whilst suffering from sepsis, it was not a priority for treatment.
Endometrioma cysts
I was then diagnosed with an endometrioma on one of my ovaries. This is a type of cyst formed when endometrial tissue grows in the ovaries and though it is benign and part of endometriosis it could lie dormant for years. More worryingly for me, after two bouts of sepsis, it could become infected like the abscesses. You can understand I was left feeling extremely anxious and wary. I Google searched an endometrioma and learnt it if grows bigger than 4cm it should be removed. 
Consultation with an Endometriosis Specialist
I am a huge fan of the NHS – so many doctors have treated me over the years and I'm extremely grateful for the excellent care and treatment I have received. I went for a long awaited for appointment with a consultant specialist for endometriosis. I was so anxious about getting the most from the appointment, I prepared questions and even got excited about finally getting the answers I so badly needed. Sadly though I was given the good news my abscesses had gone, I was told treating the endometrioma was not an option at this time. 
Fertility and my future
You can just imagine how difficult I found life at this stage. As I mentioned earlier, I had always planned to have a family one day. I didn't want to wait, knowing I had an endometrioma, to find out at later some stage I couldn't conceive yet I could have done something about it earlier. I dearly wanted to know where I stood, not just to remain fit and well but to be able to plan. I am very lucky, I have an incredibly supportive boyfriend and family and they suggested I seek a second opinion using my boyfriend's private medical insurance.
Mr Mabrouk at Spire Cambridge Lea Hospital
On recommendation, I booked an appointment with Mr Mabrouk at Spire Cambridge Lea Hospital. Mr Mabrouk is a Consultant Gynaecologist and co-director of the Endometriosis centre of Cambridge University Hospitals. He has been treating endometriosis patients for the last 16 years in 2 of the busiest centres in Europe. He specialises in in endometriosis, advanced laparoscopic and hysteroscopic surgery and menstrual disorders. He is one of Europe's leading experts in the field and has written numerous peer-reviewed research papers on the topic of endometriosis.
By this stage in 2020, the country was in lockdown so I had a virtual consultation. Mr Mabrouk listened carefully to my issues, my story and my fears. He was ready with a presentation and we discussed various courses of action and treatment. More importantly, I was able to speak to him at length about the endometriosis, my concerns and my hopes to have a family in the future.
Simultaneously I consulted a fertility specialist and came off the pill to undergo tests. Sadly this led to another bout of severe pain and a hospital admission but fortunately this time it was not sepsis, just pain.
Laparoscopic surgery
I updated Mr Mabrouk who prioritised my case and the removal of the endometriosis. Surgery was booked for June but due to Covid and restrictions on surgery, it moved to October when I underwent laparoscopic surgery at Spire Cambridge Lea. Though it was a complex surgery, I felt it was a very simple procedure and I went home after two days. The endometrioma was completely removed as were the endometriosis lesions found around my bowel. My fallopian tubes were checked for blockages and to everyone's surprise and relief, they were found to be working perfectly.
Very importantly, no ovarian tissue was removed and my ability to have a family is looking very positive. As for the endometriosis symptoms and pain, I have none.
Mr Mabrouk explains: "Surgery of this nature is highly complex and must be carried out by a specialist in endometriosis. Lucy's surgery was absolutely no different, saving her ovary was extremely challenging and she had endometriosis near her bowel which had to be removed without damaging the surrounding tissue.
"For the patient to achieve the optimum outcome from surgery, it must be kept as simple as possible and to do this requires specialist training and the multi-disciplinary team approach so other specialists can and should be called on to provide support if necessary. The aim is to remove as many lesions as possible in one procedure. Endometriosis is a chronic disease and ideally every patient only ever requires one surgery to address it. Sadly I often see patients where this has not been the case and by the time they see me they have already undergone multiple surgeries but still have chronic pain and symptoms of continued endometriosis. That is why patients should seek the help of a specialist."
For over half my life, I've suffered pain every single day – now I am pain free.
I've had sepsis twice and lived in fear of it returning. I am now not just pain-free, I have a future ahead of me with certainty and confidence. Should any symptoms return, I have Mr Mabrouk and his team there to listen, help and treat me. I have even started running again…in fact, I've just run 5k this morning. I could not be more grateful to Mr Mabrouk and the team at Spire Cambridge Lea.
At Spire Cambridge Lea Hospital we offer a range of expert advice and treatments. If you have any concerns about your health, make an appointment with one of our consultants today.