Spire Oncology Centre opens Bristol's new £1m Chemotherapy Suite.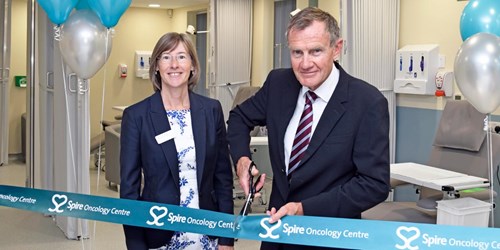 Spire Healthcare's Chief Operating Officer, Catherine Mason joins the group's Deputy Chairman, Peter Bamford in officially opening the new state-of-art Chemotherapy Suite at Bristol's Spire Oncology Centre. The Spire Oncology Centre opened in April 2014, initially offering Radiotherapy treatment to patients, now announces introduction of chemotherapy treatment for patients in the South West who are seeking a privately funded care option.
The centre was awarded the Macmillan Quality Environment Mark with the highest score possible, and since undergoing this transformation has added an additional Chemotherapy Suite as well as a brand new conference facility. The conference facility will be used to hold cancer related support groups and GP educational seminars.
The new development is part of a £1 million investment made by Spire Healthcare and will make the Oncology Centre one of a kind in the South West region. The private facility is located in Aztec West, Bristol and is supported by the oncology services at the Spire Bristol Hospital near by. The new treatment area houses four open pods and one dedicated room allowing patients to choose the environment in which they receive their chemotherapy treatment.
The calm environment of the building is tranquil and the contemporary nature of this facility leaves a long standing impression. There is plenty of car parking and a dedicated team of experts that will be with the patient throughout their journey from diagnosis through to the survivorship programmes offered by the centre staff.
Speaking to Aly Flint the Chemotherapy lead of the centre she seemed delighted that the doors have officially been opened to such an outstanding facility.
"This project has been in the pipeline for some time now and it is my pleasure to have already open our doors to our first patients. The suite will provide crucial chemotherapy care to those in need, whether they come to us through their insurance or are self-funding."
The new suite is now fully functional and has seen its first Chemotherapy patients starting treatment last month. There has already been positive patient feedback submitted about the facilities as well as up lifting comments about the centre's nurses and care teams.
"The patient is at the centre of everything we do and we aim to provide a complete service by treating our patients as individual people. As a result of patient feedback we have designed the new suite with a focus on, 'the little things'. For instance the Spire Oncology Centre provides individual folders for our patients to log their treatment history, we have invested in fully adjustable chairs that face away from other patients and we allow those receiving care the option use of privacy screens." continues Ms Flint.
If you or anybody you know would like more information on the Oncology Services provided by Spire Oncology Centre, South West and Spire Bristol Hospital then please do not hesitate to get in touch with the centre team.