Spire Bristol Hospital's parking problem: Solved!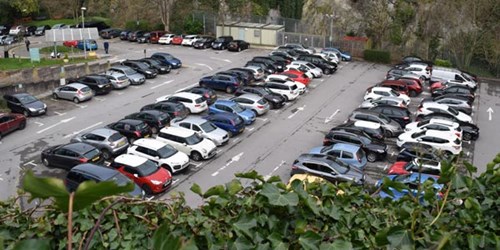 Bristol City Council grants unanimous permission to Spire Bristol Hospital who plan to build new multi-storey car park. For some time now the hospital has seen an increase in demand for more patient and staff parking. The facility, which sits at the top of Redland Hill near Clifton is the largest private hospital within the South West of England, and it now will get the car park to match.
When Bristol City Council introduced resident parking zones in the neighbouring streets – and removed all parking from the nearby Downs - the existing pressure on parking spaces for patients and staff became untenable.
Management of the hospital took action and put together a proposal for a three storey car park. The new car park will be built over their existing one, which sits down inside what used to be a working quarry. The sunken structure means that the roof of the car park will be at ground level. This would ensure the new parking facility will not be easily seen, minimising any impact on neighbours and the wider 'street-scape'.
Speaking with the Hospital Director Dan Rees Jones it is clear that this decision by the council is warmly welcomed.
"This is a project has been going on for over three years now and we are delighted to be announcing to our current patients and staff that the parking problems are solved."
The plans include a 'brown' roof with planting to encourage biodiversity, as well as new sensitive landscaping. There is an increase in the number of disabled spaces, car share spaces, secure cycle spaces and even the introduction of electrical car charging bays.
"A tremendous amount of time and effort from numerous parties has been invested into ensuring that we got this right. We have a duty of care to our patients, our staff and to our local community to ensure that we listen to their requirements and accommodate their needs. We've achieved this through careful planning and implementing certain design provisions," continues Mr Rees Jones.
The hospital employs 500 staff who work various shift patterns 24 hours-a-day, often travelling at night from other parts of Bristol and beyond. In addition, 30 per cent of consultants have to travel – often under time pressure - between the Spire Hospital, Southmead Hospital, BRI and the Weston General Hospitals. Many of the patients visiting the hospital – by definition – have limited mobility, and need easy access to the hospital.
"This additional parking will help stop patients and visitors driving around local streets looking for parking spaces. It'll also improve the flow of traffic in and out of the hospital, which at times has seen cars queuing onto the main road. It's a project that we are confident will transform patient and staff experience at our hospital," concludes Mr Rees Jones. 
 For more information on the car park plans, you can visit the Bristol City Council website.