"Putting up with joint pain just isn't a sensible option."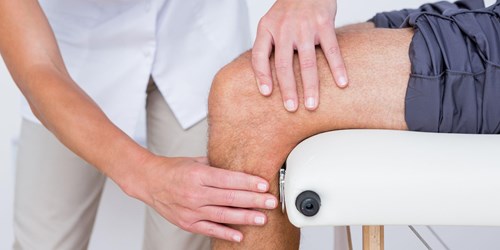 As we get older we might complain about 'creaking' joints and the inability to do things we could do 'when we were younger.' There are things we can do to keep our joints healthy and in good order.
However, if a joint, such as a hip, becomes arthritic then various treatments may be required.
Mr Jason Webb, a consultant orthopaedic surgeon at Spire Bristol Hospital, says that the amount of pain and limitation to every-day activities are the most important factors that should decide the timing of treatment.
Here he answers some frequently asked questions about joint health and hip surgery.
Question: Joint pain is increasingly common with ageing. Is it, however, important that people do not ignore persistent joint pain that is worsened by activity?
Answer: Pain is the way your body tells you that something is wrong. Pain in the groin and hip region is the most common symptom suffered by patients with arthritis of the hip. The first things to try are pain killers, conditioning the hip muscles, physiotherapy and the use of walking sticks.
However if the pain persists for more than about a month it is unlikely to be a sprain and the important thing is to get it checked out, first by your GP and at this stage an X-ray is advised.
Putting up with pain just isn't a sensible option.
Question: What might happen if they don't get them checked quickly, can they worsen over time  and could surgery be required?
Answer: As we get older our joints do get stiffer – that's just a fact of life. However, putting off getting treatment for an arthritic joint may have a detrimental effect on other joints and their muscles.
Pain arising in the hip joint can be referred to the low back and the knee and with time may alter how they function. The hip acts as a vital junction between the lower limbs and spine. When the hip joint has worn out, a hip replacement is a good option to improve function.
Question: Do some people simply stop physical activity to avoid the pain of damaged joints and how can this affect their general health?
Answer: If you don't get treatment then it may become the case that walking is just too painful. If that's the case then other health issues will often arise.
Your heart and lungs needs exercise in order to function properly and you may also find that you put on weight because of your lack of activity.
A new hip really can give you a new lease of life. Suddenly walking becomes not only an option but actually an enjoyable option.
These days hip joint replacement surgery has a fantastic success rate and people really can get back to the things they loved. I know people in their 50s and 60s who had given up golf or tennis because of joint pain who are now back in action following successful surgery.
Hip replacement surgery is one of the most successful operations in modern medicine with regards to patient satisfaction. Numerous studies from the UK and around the World have shown satisfaction rates of over 90% are recorded by patients at one year and beyond following hip replacement.
Depending on age and general fitness many types of activity become possible again – I tell patients to not let an arthritic hip joint dictate their lifestyle when so many treatment options are available!
---
Spire Bristol Hospital will be hosting a number of information events at the end of April for anyone who may be suffering from hip or knee pain. Consultant specialists will deliver a presentation on the common causes of hip pain and knee pain. They will explain in detail the treatment options available to you. These events are completely free to attend and will be held on the following dates
Hip Pain - Common problems, symptoms and treatments
Wednesday 25th April from 7pm – 8pm
Knee Pain - Aches, Pains and Treatment
Thursday 26th April from 7pm – 8pm
To book onto this event please get in touch with Spire Bristol Hospital by calling 0117 980 4080 or emailing their patient treatment advisers on info@spirebristol.com.