PA Sam Davies explains why she loves working at Spire Bristol
Sam Davies, PA to the Senior Management Team, explains how Spire Bristol have supported her career development and why she loves working at the hospital
"I have worked at Spire Bristol for seven years after joining in May 2014 as a Receptionist. I worked on both Main and Lower Receptions for three years before progressing to Clinical Governance Administrator in June 2017. This role included some elements of HR, such as organising work experience and also managing consultant practicing privileges. I did this for two years and then the former Senior Management Team PA retired so the role of PA and Consultant Practicing Privileges was amalgamated.
Currently I am completing a PA diploma with an external company called Pitman Training which I started in January 2021. The diploma focuses on Microsoft Office skills, events management, organising meetings, minutes and time management. Spire have supported me through this and recognised the need for both professional and personal development.  
Aside from professional development there are lot of opportunities for staff to learn additional skills. I have been trained as a Mental Health First Aider and myself and the team are now developing a HR mental health toolkit, promoting mental health awareness days and making staff aware they can talk to me if they need to. Spire has taught me the skills I need to signpost staff to the help they need.
I am also part of the Sports and Social committee, who organise events for staff throughout the year. Although these have had to be put on hold over the past year due to Covid-19, we have still been able to do a few nice things such as give out chocolates at Easter! We usually plan the Christmas do, annual hog roast and Christmas party for staff member's children.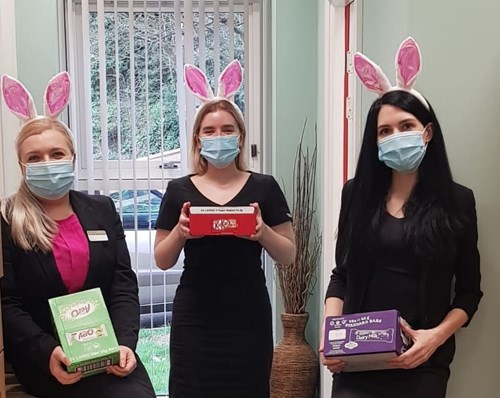 Above: Sam, Grace and Harriet ready to give chocolates to all members of staff for Easter!
I love working at Spire Bristol because it feels like being part a family. I've made really close friends - so much so I even live with one of my colleagues from Reception! There is a great culture here; everyone is approachable and willing to help to ensure the best patient care is provided."