New Director takes charge of Bristol Hospital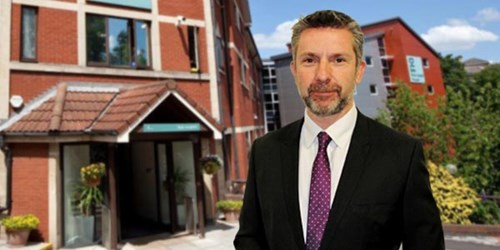 A former intensive-care nurse who went on to be a Director of Clinical Services in Australia, has taken charge of two prestigious Bristol medical centres.
Simon Milner, who has worked extensively in healthcare services around the UK, is the new Hospital Director for Spire Bristol Hospital in Durdham Down and the Spire Oncology Centre, South West in Aztec West.
"It is certainly going to be a challenge," said 53-year-old Simon. "Both sites are important players in the healthcare services in the South West and already have very good reputations which I now hope to build on.
"We recently introduced chemotherapy services to our Oncology Centre and, under the guidance of our recently-appointed Centre Manager Fiona Conway we have seen a large growth in demand for treatment there.
"The Centre really is a jewel in the crown of Spire's entire network and I will be looking to expand and improve on what we can offer to cancer patients. Having both radiotherapy and chemotherapy on the same site means we can provide a complete care package that cannot be found in many places."
Regarding the 74-bed Spire Bristol Hospital Simon said: "At first sight the hospital is, to say the least, impressive. It has many of the region's top consultants as well as a highly-trained medical staff and I have been delighted to receive a very enthusiastic reception from everyone I have met so far.
"With five theatres, a high dependency unit with three beds and three intensive care beds it really is in a great position to deal with the ever-changing face of healthcare in this country, whether that is working in partnership with the NHS or dealing with the growing demand for private care."