'Cool' treatment eases pain without the need for surgery
A new, non-invasive procedure being offered at Spire Yale Hospital could bring relief to thousands of patients suffering from debilitating pain.
Cooled Radio Frequency Ablation (cooled RF) is the name of the treatment that was recently approved by the US Food and Drug Administration (FDA) for arthritic knee pain and can provide relief for up to 24 months.
The procedure uses radio frequency to target and numb the nerves that send the pain signals from the pain point to the brain. While it can't repair damage, it eases pain and helps patients return to activities without suffering pain and on reduced medication.
The treatment was introduced at Spire Yale Hospital in Wrexham by pain management consultant Dr Thomas Haag who was one of the first in the UK to use this treatment.
"Cooled RF is still a relatively new treatment and hasn't gained complete clinical acceptance yet," said Dr Haag, "sadly this means it is not available everywhere yet on the NHS. However, after recent approval from the FDA, confirming what advocates for this treatment have known for the last few years, cooled RF is becoming more well-known."
During the procedure, minimally invasive needles and water-cooled electrodes are inserted into the target nerves responsible for sending pain signals to the brain. Radio frequency energy passes through the needles and heats nerve tissue, greatly hindering those nerves' ability to send pain signals. By also cooling the area with the water-cooled electrodes, there is an extension of the time before pain signals will return. 
The day case procedure sees patients treated within less than one hour under sedation and local anaesthetic and discharged one to two hours afterwards. Significant pain relief begins after around one week, although it is not unusual for patients to feel immediate relief.
"I use it to treat certain causes of back, hip and knee pain, not deemed suitable for surgery," said Dr Haag, "Or where surgery has been attempted, but the patient is still left in pain. For those patients, Cooled RF can make a considerable difference. It's a powerful treatment option for patients to come off their medication or use far less.
"We know that chronic pain comes with social isolation, patients being less active and spending less time with family and friends which has a detrimental effect on their physical and emotional wellbeing. Cooled RF provides lasting and meaningful pain relief and makes a considerable difference to the quality of life for my patients."
Dr Haag's own experience seems to mirror that of a study[1] [2] from 2016 which found that 74% of patients who had the treatment said their symptoms were reduced by at least half at six months, and at 12 months, 65% said pain was still reduced by half.
Despite the impressive results Dr Haag has experienced with his patients, he's quick to correct anyone who might see this as a 'wonder treatment'. "It has the potential to provide patients with very meaningful relief, but the work that we do before we make that decision to treat patients is very important. The response to the test block is crucial, if we don't see a clearly positive result I do not advise patients to go down this route."
Grandmother freed from pain to play with grandchildren
One patient who has seen the benefits is 59-year-old Jane Jones. For this grandmother, Cooled RF meant nearly instant relief from the excruciating pain in her back that for years had made simple tasks like gardening and looking after her grandchildren impossible.
Mrs Jones has suffered chronic problems with the facet joints in her lower back for over 20 years. Having private medical insurance, she was able to choose treatment at Spire Yale hospital with Dr Haag, following a referral from her GP.
"Prior to seeing Dr Haag, I'd tried epidurals and cryosurgery. They had some mild success, but bad side effects. I even tried pain management classes to help me try to live with the pain better. Sadly, it just got worse.
"The pain was so bad, I couldn't plan anything, I couldn't go out with my grandchildren and I had to limit my time in the garden which was very frustrating," Mrs Jones said.
But, she felt nearly immediate relief after receiving the Cooled RF treatment. "I felt it work within seconds. I was ecstatic and if I could skip, I would have done! My stamina has increased dramatically. Swimming, gardening, walking, you name it, I can do it now and to top it off when I get home I can still walk up the stairs, instead of crawling as I used to."
Mrs Jones' friends and family also noticed a remarkable change: "My attitude changed, I started to say 'yes' to everything, I was more positive. My posture also improved and best of all, I can look after my grandchildren."
Mrs Jones wants to tell her story, in the hope of helping other sufferers; "You've got nothing to lose," she added, "I would recommend this treatment whole-heartedly. In my experience it is the easiest and most convenient way of being treated. The procedure is actually very relaxing, only momentarily painful and over in no time."
To find out more about cooled RF, call Spire Yale Hospital on 01978 268035.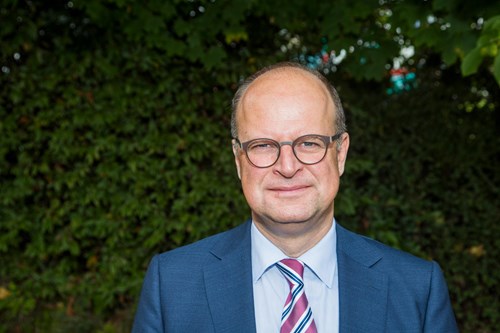 [1] Halyard Health Inc. sponsored study: A Prospective, Multi-Center, Randomized, Clinical Trial Evaluating the Safety and Effectiveness of Using COOLIEF™ Cooled Radiofrequency Probe to Create Lesions of the Genicular Nerves and Comparing Corticosteroid Injection in the Management of Knee Pain. Final results 03Apr2017. Study available upon request from Halyard.
[2] Davis T. Cooled RF Ablation Superior to Corticosteroids in Knee Osteoarthritis. Pain Medicine News [Internet]. 2017Feb2; Available from: http://www.painmedicinenews.com/Multimedia/Article/02-17/Cooled-RF-Ablation-Superior-to-Corticosteroids-in-Knee-Osteoarthritis/40262/ses=ogst?enl=true