Spire South Bank Hospital is first in Worcestershire to offer pioneering robotic-assisted joint replacement surgery
Robotic technology improves surgical accuracy to reduce post-surgery pain
and improve recovery time
Spire South Bank Hospital has become the first hospital in Worcestershire to offer the Mako robotic-assisted joint replacement surgery. The private hospital has put itself at the forefront of innovative surgery by investing in this new robotic total knee, partial knee and total hip replacement technology.
The benefit to patients when surgeons use Mako robotic-assisted joint replacement surgery compared to traditional surgery may include significantly reduced pain after surgery and faster recovery times.
The Mako technology provides each patient with their own personalised surgical plan, bespoke to their specific body shape and surgical requirements. CT scans are used to create a 3D model of the hip or knee for pre-surgical planning. In the operating theatre, the surgeon follows the personalised surgical plan while preparing the bone for the joint implant. The Mako robotic arm guides the surgeon so they remain within pre-defined surgical areas to avoid the removal of healthy bone tissue. As the surgeon resurfaces the knee or hip joint for the placement of implants, Mako provides real-time feedback to the surgeon, delivering a high degree of precision and accuracy in the placing of the implants.
Consultant Knee and Hip Surgeon, Mr Nadim Aslam at the hospital said: "The Mako robotic arm is transforming the way joint replacement surgeries are performed. Having been trained by the world's leading Mako consultants, I am proud to be the first consultant orthopaedic surgeon in Worcestershire to be using this technology and practising some of the most advanced techniques for my patients at Spire South Bank Hospital."
Dawn Pickrell, Hospital Director said: "The whole team here at Spire South Bank is proud to be the first hospital in Worcestershire to introduce Mako technology for knee and hip replacements. Having three highly experienced orthopaedic consultants here offering this advanced surgery, I am confident that even more patients will benefit from the most-up-to-date technology available to ease their pain and provide renewed mobility and quality of life."
Consultant specialists offering this new service at Spire South Bank Hospital include; Mr Nadim Aslam, Mr Darren Clark and Mr Akash Sharma.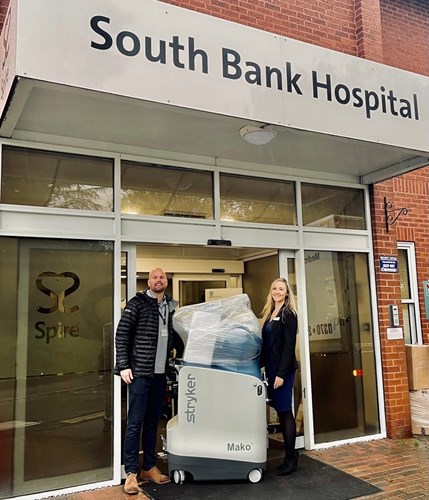 Spire South Bank Operations Director Charlotte Worrall (right) was joined by Jason Eddy (left) from Stryker to wheel the state-of-the-art Mako Robot into the hospital.