Spire South Bank Hospital surgeon performs 100th Mako robotic-assisted joint replacement operation
Spire South Bank Hospital was first in Worcestershire to offer pioneering robotic-assisted joint replacement surgery
A consultant orthopaedic surgeon at Spire South Bank Hospital has celebrated the completion of his 100th Mako robotic-assisted joint replacement operation.
Consultant Orthopaedic Robotic Hip and Knee Surgeon, Mr Nadim Aslam, performed the milestone operation on Spire South Bank patient, Ms Hilary Fowler who received a robotic-assisted knee replacement. Ms Fowler was confident in selecting Mr Aslam for her procedure, saying: "I had previously undergone a successful operation by Mr Aslam many years ago, so I had no hesitation in entrusting him with my robotic knee replacement. Moreover, several of my friends have been his patients before, making it an obvious choice. He is truly a remarkable man! Being his 100th robotic patient was an exciting experience, and I feel fortunate to have received such futuristic care".
The Mako robotic system is used by the highly qualified team of surgeons at Spire South Bank Hospital's Robotics Centre of Excellence during joint replacement surgery. By creating an exact virtual 3D model of Hilary's knee, Mr Aslam was able to meticulously plan and tailor the surgical procedure precisely to the shape of her knee joint. The robotic arm guides surgeons to achieve a perfect and unique fit for the joint replacement. This incredibly high level of detail improves the fitting of hip, knee and partial knee implants which therefore leads to better joint functionality and reduced post-operative pain. Compared to traditional surgery, robot-assisted surgery has been proven to significantly reduce pain after surgery, allow a faster recovery in early knee movement, and perform joint replacement surgery with two-to-three times the accuracy.
Mr Aslam, who has pioneered the introduction of the Mako system at Spire South Bank Hospital said: "This has been an incredible journey, from our very first procedure in January to now, marking my 100th procedure in just seven months. The feedback from patients has been nothing short of astounding. They have reported exceptional outcomes, remarkably fast return to work or being able to do the things they love, and unmatched levels of satisfaction."
Mr Aslam's accomplishment of 100 successful Mako joint replacement surgeries demonstrates Spire South Bank Hospital's commitment to investing in the latest surgical technology and treatments. The expertise of Mr Nadim Aslam, combined with the advancements offered by the Mako system, have significantly impacted patients' lives, allowing them to regain mobility, enhance their quality of life, and forget they ever had a replaced joint.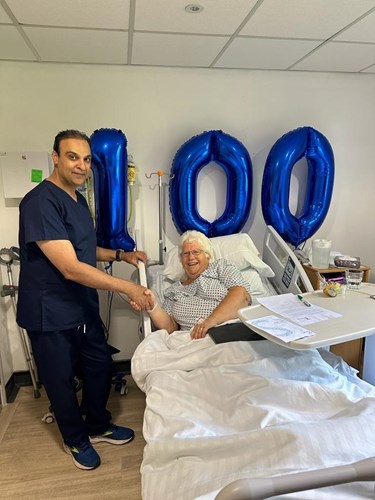 Dawn Pickrell, Spire South Bank Hospital Director said: "We're delighted to offer people from in and around Worcestershire the very latest technology in hip and knee surgery. We are seeing record levels of interest from people wanting robotic over the traditional hip and knee replacement techniques. The Mako robot is very much at home here at Spire South Bank, and we're pleased to provide access to new technology, excellent care and the levels of comfort patients have come to expect from Spire hospitals".