Stress management tips to support well-being
In my role as a psychotherapist at Spire Regency Hospital, one of the major areas I work with is stress management.
Stress in a small amount can be beneficial - it can alert us to danger and enable us to respond to threat quickly. However, increasingly, in our modern world, we can be overwhelmed by external events and demands, and in the internal world of the mind, where we can think and reason and plan. Inevitably, we can often find ourselves planning for worst case scenarios. This is not our fault, as this is evolutionary adaptive of the brain. The default mode of the brain is designed for our survival rather than our happiness, and as Neuropsychologist Rick Hanson points out, our brain is designed to be Velcro for the negative and Teflon for the good. For us to continue to adapt and evolve successfully, it is important that we address this 'negativity bias' and stress management is one way to address this. Reducing stress in our lives can help psychical and emotional well-being.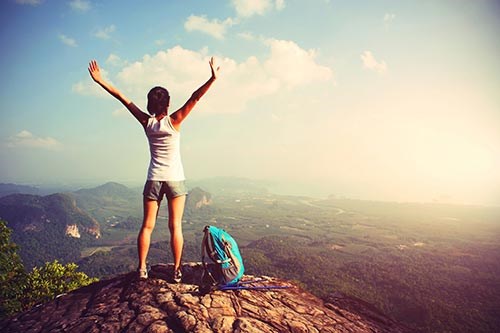 Here are some tips on managing daily stress:
Balance – Going full steam ahead with any activity, particularly with goal-focused activities such as dieting can put excess pressure on you if not managed carefully and realistically. It is far better to consider eating healthily and mindfully.
Harmony - This comes about from acknowledging moderation and moving towards your goals a step at a time, so that you are not overwhelmed.
Compassion - work towards being kind to yourself and those around you, and in all your relationships.
Mindfulness - Paying attention to and acknowledging the beauty of nature every day, and being fully present, enables you to engage more fully with the world around you and allows you to ground firmly in the present when planning for the future.  Often people report feeling they have more time when practicing mindfulness.
Self-compassion - This is strongly associated with fewer negative states like depression, anxiety, stress, shame and negative body image. Research also shows that self-compassionate people engage in healthier behaviours like exercise, eating well and drinking less. It is strongly linked to more positive states like happiness, life satisfaction, optimism, and better physical health.
Plan your time – Make time for fun, family and friends.
Pace yourself - Create that work-life balance.
Assert yourself – Learn to say no. Don't over commit.
Get physically active – This releases mood-lifting hormones.
Relax - We think most positively and creatively when relaxed.
Learn self-hypnosis, meditation - This aids relaxation.
Have a gratitude practice - This helps us focus on things that we appreciate and can lift the mood.
Practice sleep hygiene - A good night's sleep reduces many symptoms of stress.
Focus on positive nutrition - A healthy diet leads to a healthy mind and body.
Focus on all your achievements and all you are thankful for – At the end of every day.
Annette Boden has regular clinics at Spire Regency Hospital. For more information or to book an appointment with Annette, please call 01625 501150. For more information about Annette, please see her website - http://www.annetteboden.co.uk/.
The content of this article is provided for general information only, and should not be treated as a substitute for the professional medical advice of your doctor or other health care professional.