Spire Portsmouth Hospital 'plants a tree for the Jubilee'
Spire Portsmouth Hospital has done its part to enhance the environment and honour the Queen's Platinum Jubilee by planting a tree on the grounds of the hospital.

(L to R) Abigail, Rosy, Julie, Hannah and Kevin
The tree was planted by both the longest-serving member of staff Rosy Bell (Imaging Manager) who has been at Spire Portsmouth Hospital for a total of 32 years, as well as recent starters, Hannah Torrice (Radiographer) and Abigail Foster (Pharmacy Technician). Alongside them were Hospital Director Kevin Griffiths and Clinical Services Director, Julie Macpherson.
A Sorbus aria 'Lutescens' tree was selected - a medium-sized tree with silvery coloured leaves in spring changing to grey/green and creamy-white flowers followed by orange-red berries.
Alongside the tree lies a commemorative plaque from the Royal British Legion which will mark the spot for years to come.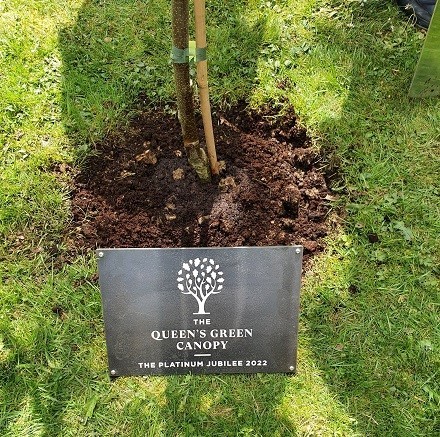 Queen's Green Canopy plaque
Kevin Griffiths, Hospital Director commented: "Many businesses and associations are taking part in the Queens Green Canopy initiative honouring 70 woodlands across the country and planting trees to celebrate the Queen's Platinum Jubilee.
I thought it would be nice for Spire Portsmouth Hospital to take part and 'Plant a tree for the Jubilee'. As it's something that will stay with us for a very long time and is particularly poignant in light of a tree that we lost recently during the storm.
A massive thank you to Sophie Bishop, Gary West and Sue Silver who all did their part to help get the tree planted today."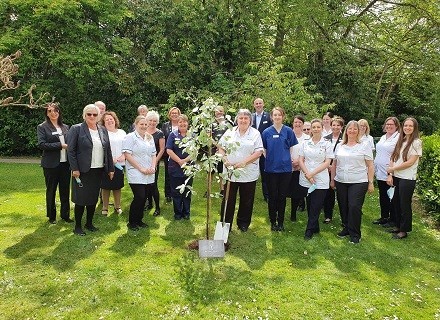 Spire Portsmouth Hospital staff with planted tree