A new development in the treatment of prostate cancer
A new development in the treatment of prostate cancer - based on bacteria found on the ocean floor - has been welcomed by Spire Little Aston consultant urologist Mr Vivek Wadhwa.
Tests on the new treatment, carried out at University College London Hospital, showed that around half (49 per cent) of 413 patients with low-risk prostate cancer went into complete remission compared with 13.5 per cent in the control group who were given no treatment. 
Publishing results of the tests in The Lancet Oncology, lead investigator Professor Mark Emberton, Dean of UCL Medical Sciences and Consultant Urologist at UCLH, said: "This is truly a huge leap forward for prostate cancer treatment.
"In 1975 almost everyone with breast cancer was given a radical mastectomy, but since then treatments have steadily improved and we now rarely need to remove the whole breast.
"In prostate cancer we are still commonly removing or irradiating the whole prostate, so the success of this new tissue-preserving treatment is welcome news indeed."
The therapy, involves injecting a light sensitive drug into the bloodstream and activating it with a drug to destroy tumour tissue, while leaving healthy tissue unharmed.
The drug used in the procedure, called WST11, is derived from bacteria found at the bottom of the ocean.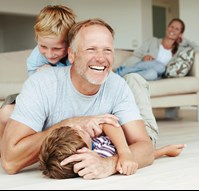 To survive with very little sunlight, the bacteria have evolved to convert light into energy with incredible efficiency. This property has been exploited to develop WST11, a compound which releases destructive tumour-busting 'free radical' molecules when activated by laser light.
Mr Wadhwa said: "I got to know Professor Emberton well when I was working in London and I have been aware of this research for quite a while.
"Modern treatments do allow us the opportunity to remove the cancerous growth but  if the nerves around the prostate are damaged with radical surgery (open/ laparoscopic or robotic) or radiotherapy, then this could result in erectile dysfunction or urinary incontinence which can significantly impact on a man's quality of life.
"Professor Emberton's treatment offers the potential benefit of dealing with the abnormal areas of prostate cancer without the potential side effects. With more well-conducted research this breakthrough could really benefit prostate cancer patients in the future."
He added: "At the moment men diagnosed with prostate cancer have a number of possible treatment options and I give patients sufficient information regarding the pros and cons of each option so they can make their own informed decision. It is important to discuss potential side effects of treatments which could significantly impact on our patients' quality of life.  This new development is a fascinating breakthrough and I look forward the results of further tests and research."