Claire underwent rhinoplasty surgery after much consideration and thought.
"I've wanted it done for such a long time because I always disliked how my nose looked. When I was 20, I went to see another consultant but I decided not to continue because something wasn't right, so I waited nearly another 20 years!
"A friend mentioned to me that there were free mini consultations at Spire and I went along - I didn't know who I would see and I had no expectations.
"I saw Mr Anil Banerjee and I thought he was very professional, knowledgeable and very approachable. I went with a long list of questions and he told me some things that I didn't know, like how my nose was actually twisted on the inside which I didn't know about before. I liked him and I thought I'd have a full consultation.
"I saw him several times. I'd done a bit of investigation online and I had two further consultations with Mr Banerjee between November and January and then booked the operation. I saw him three times prior to the operation in May"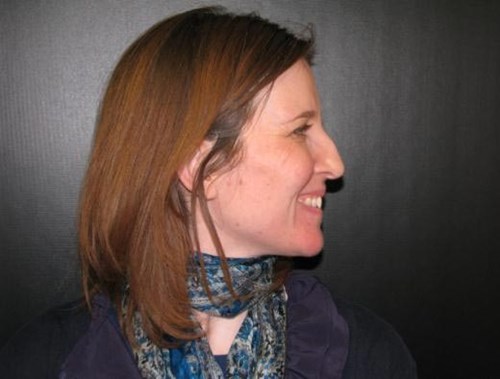 Claire before her operation
Having had problems with anaesthesia previously, Claire had some concerns about the operation.
"On the day of the op Mr Banerjee and the anaesthetist came to see me. During a previous unrelated procedure, I had suffered with extreme nausea and had to be administered with anti-sickness drugs. I was concerned that if I had the same reaction I wouldn't be able to breathe with all the dressing and packing in my nose if I was really sick. The anaesthetist took it all really seriously and in fact there was no sickness at all."
Having been reassured by her surgeon and anaesthetist, Claire was taken down to the theatre for the operation itself.
"I was actually really calm before the operation. I was apprehensive about how I would look and feel immediately afterwards but my fear was unfounded and I had complete confidence in Mr Banerjee. I had all the dressings and a splint but hardly any bruising and was even able to eat a full breakfast the next morning!" 
Claire had a week off work to recover after which, although she still had stitches under her nose, these were hardly noticeable and most of the bruising had gone and the swelling had reduced.
"When the splint came off and the stitches were out I couldn't believe it was my nose. It is absolutely how I want it to be."
"Now, people who haven't seen me for a while think I look different but are not sure why - which is brilliant! I don't wear my glasses as much anymore but I'd always have had my glasses on before.

Claire after her operation
"It's absolutely great for me because it's a really big decision, but it's made such a difference to me personally. It was worth every penny and I'm so pleased."
Claire is happy to share her experience because as she says: "If somebody's not sure and they're doing some research, hopefully reading about my experience may help them make a decision.
"It's a big decision not just financially, but emotionally and I couldn't have wished for a better service or aftercare - I'm delighted!"