National Heart Month: Arrhythmia
February is National Heart Month so we asked Consultant Cardiologist and Electrophysiologist Dr Riyaz Somani to tell us more about arrhythmia, the medical term for abnormal heart rhythm or irregular heartbeat.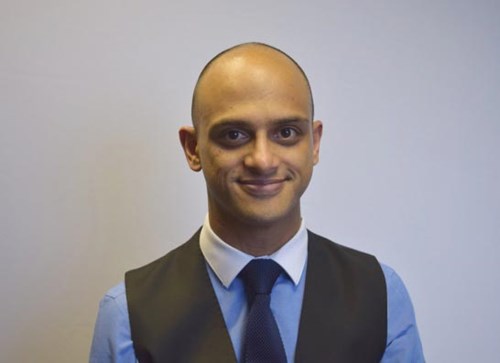 The normal heart
A normal resting heart rhythm usually results in the heart beating regularly at a rate of between 60-100 beats per minute, although some people can fall outside of the normal range and still be perfectly healthy. It is normal for the heart rate to increase during strenuous exercise or while under stress.
What is arrhythmia?
The term arrhythmia is used to describe an abnormal heart rhythm or irregular heartbeat. This might mean the heart is beating too fast or too slowly, or in an irregular, unsteady pattern. Arrhythmias may be constant or occur intermittently and usually occur due to a disruption within the normal electrical signals in the heart which regulate the heart's pumping action.
What are the symptoms of arrhythmia?
Arrhythmias make the heart rhythm become too quick, too slow and/or irregular or become more powerful in intensity. This might result in the sensation of extra beats, or that the heart is 'skipping beats'. This awareness of the heart beating is often referred to as 'palpitations'. Arrhythmias may also cause other symptoms such as dizziness, chest discomfort, breathlessness or cause fatigue and lethargy.
Some people with an arrhythmia experience no symptoms at all and the problem might be detected by chance during routine testing, or after tests carried out for other reasons. For those who do notice symptoms, they can range from being mild to severe, although the severity of the symptoms does not always indicate the seriousness of the underlying problem. Some very serious heart rhythm disorders may not cause any symptoms, and vice versa.
How common are arrhythmias?
Arrhythmias are very common and affect around two million people a year in the UK, and there are lots of different types and causes. They can affect people of all ages and fitness levels, although some types are more common in certain groups (such as people with certain pre-existing health conditions, those who are overweight, and those over the age of 65).
What different types of arrhythmias are there?
Some arrhythmias are not a serious threat to health but may cause alarm and impact on quality of life, whereas other abnormal heart rhythms can be very serious if left untreated. There are various types of arrhythmias as outlined below:
Atrial fibrillation (AF) – This is the commonest type of arrhythmia characterised by an irregular heartbeat, which is often rapid, and which can cause blood to pool in the heart's upper chambers, which may result in clots forming. AF is a leading risk factor for major strokes, although it can be easily diagnosed and managed with the correct lifestyle advice and treatment.
Atrial flutter – This is the second most common arrhythmia, often occurring due to a 'short circuit' in the top right chamber (right atrium) of the heart. It usually results in a rapid heart rhythm and is also associated with a risk of stroke. Effective treatment strategies are available.
Supraventricular tachycardia (SVT) – These also cause a very fast heartbeat. Although not life-threatening, SVT can cause symptoms such as dizziness and breathlessness which can be distressing and difficult to live with. SVT can be tricky to diagnose as it often occurs intermittently and may be infrequent and the symptoms can be mistaken for anxiety or panic attacks.
Ectopic beats – These are extra beats arising from a 'hot spot' either in the top chambers (atrial) or the bottom chambers (ventricular) of the heart.
Heart block – Varying degrees of heart block exist due to 'sluggishness' of the heart's normal 'wiring'. This can lead to a heart rhythm that is too slow and can lead to symptoms of dizziness or collapse. Treatment with a pacemaker is sometimes indicated.
How is arrhythmia diagnosed?
If your GP suspects you have an arrhythmia you may be referred to a specialist with an interest in arrhythmia which can be an important step in helping to diagnose the specific type of arrhythmia. It may be possible to detect warning signs by taking a detailed history of symptoms and through careful assessment of the pulse as well as by undertaking appropriate tests to confirm the diagnosis.
Further tests will depend on the suspected diagnosis but may include:
Routine blood tests, including checking salts in the blood and thyroid function.
A tracing of the heart – Electrocardiogram (ECG).
A heart monitor (for between 24-hours and up to 2 weeks) to wear at home.
An ultrasound scan of the heart – Echocardiogram.
An exercise treadmill test for palpitations provoked during/after exercise.
An implantable loop recorder – a small monitor can be implanted under the skin on the left side of the chest – useful to diagnose symptoms that occur infrequently.
What treatments are available for arrhythmias?
Treatment of arrhythmias depend on the specific type of abnormal heart rhythm. Obtaining symptom rhythm correlation (obtaining an ECG tracing at the time of symptoms of palpitations) is essential to guide further treatment. Treatments may include:
Reassurance if no particular abnormality is found.
Avoidance of known triggers, for example alcohol and stress.
Lifestyle modification – weight loss and exercise may be helpful for some patients with arrhythmia.
Medication such as beta blockers, calcium channel blockers, and more specific anti-arrhythmic drugs depending on the specific cause can be used to reduce the occurrence of arrhythmia. Some patients with certain arrhythmias may also benefit from anticoagulants often referred to as 'blood thinners', to reduce the risk of stroke.
Catheter ablation – This is a minimally-invasive technique used to correct the disruption of the electrical signals in the heart, which can be curative for some patients.
Pacemaker/Implantable cardioverter defibrillator (ICD) implantation. This can be used to treat patients with slow heart rhythms as well as other serious arrhythmias.
When should I see a doctor about my heart rhythm?
If you are experiencing any ongoing or worrying symptoms such as palpitations, dizziness or breathlessness it is a good idea to see a doctor and be thoroughly assessed, whatever your age and fitness level. In particular, atrial fibrillation is a very common arrhythmia and a major risk factor for stroke, which can be prevented if the condition is detected and treated - so seeking medical advice if you have symptoms or concerns is sensible. Routine checks can also be helpful for people with a family history of arrhythmia.
---
Leading Cardiologist and arrhythmia specialist Dr Somani has a regular Wednesday morning clinic here at Spire Leicester Hospital. For appointments, please call us on 0116 265 3685.