Vitamin D and Sun Protection – getting the balance right
Finding a balance between the need to protect ourselves from the risks of skin cancer caused by the sun's UV rays and the importance of getting enough vitamin D for our health has been causing confusion for many years.
The UK is slowly evolving from a nation of tanned sun seekers to savvy sunscreen experts however, in recent years the knowledge of the benefits of vitamin D for muscle and bone health has led to concerns that a large proportion of the population is vitamin D deficient, prompting some to ditch the sunscreen.
Professor Simon Kay, Consultant in Plastic and Reconstructive Surgery at Spire Leeds Hospital warns that we should not become complacent about sun protection as figures from the British Skin Foundation show that around 100,000 new cases of skin cancer, known as melanoma, are diagnosed each year in the UK and the disease kills more than 2,500 each year – that's seven people every day*.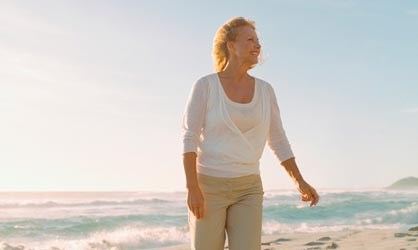 "The sun's UV (ultra violet) radiation is both the major cause of skin cancer and the best source of vitamin D." said Professor Kay. "Sun protection is a necessity no matter how desperate the need for vitamin D. Sensible sun protection does not put people at risk of vitamin D deficiency. In the summertime the chances are that you are getting enough vitamin D through everyday activities such as walking to the car or to the shops. Any longer than a few minutes exposure to intense UV won't increase vitamin D levels significantly but it will increase the skin cancer risk."
Professor Kay draws attention to the two main types of the disease: non-melanoma and malignant melanoma, which in the majority of cases are caused by exposure of the skin to sun. "Non-melanoma is the most common and usually more easily treated skin cancer. Malignant melanoma is the most deadly form of skin cancer as it can spread to other tissues and organs."
According to the most recent figures recorded by Cancer Research UK, there were 2,459 deaths from malignant melanoma in the UK in 2014 and mortality rates have increased by 156% in the UK since the early 1970's. There were 15,419 new cases of melanoma skin cancer in the UK in 2014 – a rise of 119% since the 1990's**.
Professor Kay said, "Because we don't have a huge amount of sun in the UK, when it's overcast some people might think it's fine to go without sunscreen. But the risks are very real, even in cloudy weather."
He recommends staying in the shade from 11am to 3pm when UV levels are 3 and above, covering up with a t-shirt, hat and sunglasses and using a high factor broad spectrum sunscreen.
Professor Kay added, "The fact is is that protecting our skin from the dangers of the sun is vitally important. Don't leave off your sun protection if UV levels are 3 or above. If you are concerned that you might be deficient in vitamin D talk to your doctor."
Spire Leeds Hospital recommends the following tips to help you stay safe in the sun:
Make sure you never burn in the sun. If you are determined to acquire a tan do it gradually. Damage is done when the skin burns, long before it is bad enough to blister. You know a burn has occurred when the skin goes red and feels painful.
Avoid the sun during the hottest part of the day – between 11am and 3pm. Find shade under umbrellas, trees and other shelters.
Always cover up with a high factor broad spectrum sunscreen. Sunscreen alone is not enough. Wear t-shirts, wide-brimmed hats and sunglasses.
Young skin is particularly at risk – sunburn in children under 15 leaves them at higher risk of eventually developing skin cancer.
Babies should be kept out of the sun completely, while older children should be protected with both sunscreen and clothing.
Apply sunscreen when travelling in a car, on a bus or train, as sun can still have an effect on your skin through the windows.
---
* Source: britishskinfoundation.org.uk/skininformation/skincancer.aspx
** Source: http://www.cancerresearchuk.org/health-professional/cancer-statistics/statistics-by-cancer-type/skin-cancer/mortality