Local MP Fabian Hamilton visits Spire Leeds Hospital
Leeds North East Labour MP, Fabian Hamilton, visited Spire Leeds Hospital last week to learn about the latest developments and the benefits the community is seeing as a result of the hospital's sustained financial investment programme.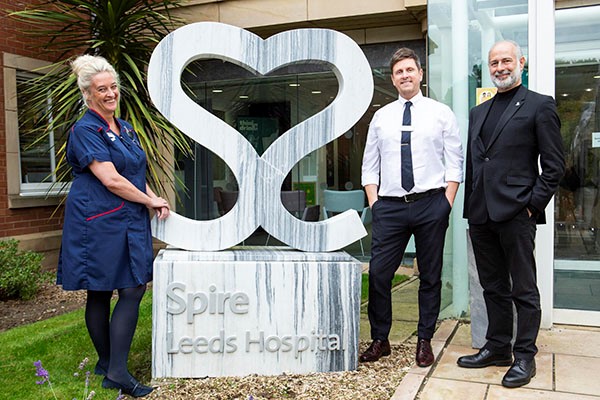 His tour, which was hosted by Spire Leeds Hospital director, Andrew Johnson and Kim Turner, Director of clinical services, included a visit to see the hospital's new MRI scanner, cardiac MRI scanner and ROSA robotic-assisted surgery.
Fabian learned about the precautions put in place to create a COVID-secure environment, which has enabled Spire to maintain near normal admission levels whilst keeping staff and patients safe.
He also heard about the significant role Spire played in supporting the NHS during the pandemic and its continued contribution to addressing waiting lists and the recovery from the pandemic.
Next on the agenda was a visit to the new Echocardiographic 'Echo' machine, part of the Hospital's continuing investment in high-quality facilities for the local community and beyond.
The Echo machine is used for a variety of patients, including those who are suffering from long COVID and have breathing difficulties and episodes of intermittent chest pains. Long COVID can cause the heart to become enlarged which will affect its function. The Echo performs a type of ultrasound scan (echocardiogram), which tests the chambers and function of the heart to determine if it is affected by long COVID so the correct treatment can be determined. The tests involve a small probe which sends out high-frequency sound waves that create echoes when they bounce off different parts of the body. These echoes are picked up by the probe and turned into a moving image on a monitor while the scan is carried out.
Commenting on the visit, Andrew Johnson, Hospital Director, said, "We were delighted to welcome Fabian to Spire Leeds Hospital. During his tour we were able to demonstrate our new services and to share news about the latest measures we have put in place to keep everyone safe this winter. He learned about the amazing work our colleagues carried out during the onset of COVID, in particular the transfer of services from Leeds NHS Trust during the pandemic and our continued support of our NHS partners.
"The legacy of the pandemic is a lengthy waiting list, both here in Leeds and across the country. At Spire Leeds, we're pleased to offer fast access to expert care with leading specialists, in a hospital where safety comes first."