Remarkable return for ultra-marathon Runner
Tish Joyce, a businesswoman from Otley has completed one of the toughest footraces in the world – the Marathon Des Sables, a 250k run in the sweltering heat of the Sahara Dessert - the equivalent of running six back-to-back marathons.
What makes her achievement even more remarkable is that Tish, 49, completed this ultra-marathon in April, just 7 months after undergoing foot surgery at Spire Leeds Hospital.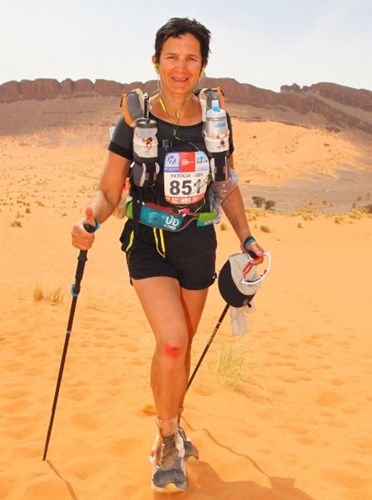 She was unable to run from last August until January due to a stress fracture requiring surgery in September. That resulted in just three months of training for the gruelling 156-mile race.

The Marathon Des Sables is known for being incredibly tough and demands the type of commitment needed to climb a Himalayan mountain. Participants need to be in peak condition as they are required to carry all their food, sleeping bag, and running kit on their back for the six day race over sand and rocky terrain in southern Morocco where April temperatures can reach over 100 degrees.

Tish, a single mum and grandmother, who ran the Great Wall of China Marathon last May has always enjoyed jogging, but had allowed work and family demands to take over and only started running again last January. This time she was determined to change her lifestyle and stopped smoking and drinking in favour of her new passion, losing over two stones as she clocked up 60 miles a week.

The ultra-marathon runner who is UK Director of Change for Lowell, a European Credit Management company with head quarters in Leeds, feared she might not be able to take part in the race when she developed a navicular stress fracture – a very problematic injury for runners. "I decided to enter the race just before The Great Wall of China Marathon. I had enjoyed the process of getting healthy and wanted a challenge that would push me outside my comfort zone - this is the ultimate challenge for runners. When I was injured I was devastated and at times didn't know if I would ever run again."

When the pain worsened Tish was referred to Nick Harris, consultant foot and ankle surgeon and sports injury specialist at Spire Leeds Hospital.

Mr Harris said, "We suspected a stress fracture with the history she gave and the fact she is an ultramarathon runner, running 60 miles per week, and the scans confirmed this was the case. Stress fractures of the navicular are often missed. They do not show up on x-rays of the ankle and can be difficult to diagnose on x-rays of the foot. It's essential to run both MRI and CT scans to diagnose and accurately characterise the stress fracture. Without treatment it can end the career of a professional sportsperson or athlete."

Surgery, which took about one hour, involved passing two screws across the navicular (one of the tarsal bones in the ankle that sits on top of the heel bone) to compress and support the fracture.
Tish travels to Germany on a weekly basis and whilst recuperating after surgery she had to take crutches on her travels. She also needed her arms to be free to enable her to walk her dogs so she invested in a hands-free knee crutch.
"The hands-free crutch gave me my life back. I could walk my dogs in the woods, travel, work and cook meals. That would have been impossible during the time I was non-weight bearing," said Tish.

Three months after surgery a CT scan showed the fracture had completely healed and Tish was able to start her strict training regime ahead of the race in which she battled distance, heat and terrain and finished in 47th female and in the top 3rd overall competing against about 1,250 runners. Her running efforts this year have raised almost £10,000 for National Autistic Society and Cancer Research UK

Tish said, "I couldn't have done it without the skill and expertise of Mr Harris and his team. Spire is the best private hospital in the area and Mr Harris is a renowned sports injury specialist. I had complete confidence in him, he was honest, and strict with me about my rehab and recovery regime. It was the greatest feeling to be running again and although he only gave me 40:60 odds to compete in December, his expertise and insistence on my recovery regime made it possible. I cannot thank him and his team enough for this fantastic result."

Many people might consider it an ultimate achievement to finish this most challenging race. However, Tish's competitive spirit continues to drive her forward. She now plans to participate in next year's Marathon des Sables- her aim is to finish in the top 10 female runners category.

Following that she has set herself the hardest personal challenge to date. Tish made the decision last weekend to run around the world. She plans to embark on this challenge in two years time. The world record for the Run the World challenge stands at 621 days to run through 26 countries, over 16,300 miles. It's a huge challenge that most of us would not think possible. Watch this space!