Eyelid surgery at Spire Leeds saves grandmother's eyesight
Droopy upper eyelids (ptosis) affects around 2% of adults in the UK and can sometimes lead to loss of vision when the eyelid covers the pupil. Famous sufferers include Charlotte Rampling and Hollywood actors Renee Zellweger, Faye Dunaway and Forest Whitaker. It cannot be prevented and corrective surgery is often the only solution.
What's more, drooping eyelids can also have a psychological and social impact, causing sufferers to look tired all the time - or even thought to be drunk.
Ptosis can affect one eye or both eyes and in severe cases, the drooping eyelid can cover part of, or all of the pupil and significantly impact vision.

In the case of Jennifer Holroyd, a grandmother from Cleckheaton, her problem was more than just cosmetic. Affecting both eyes, it was impacting her vision and had reached the point where she had to give up driving and had difficulty with daily activities.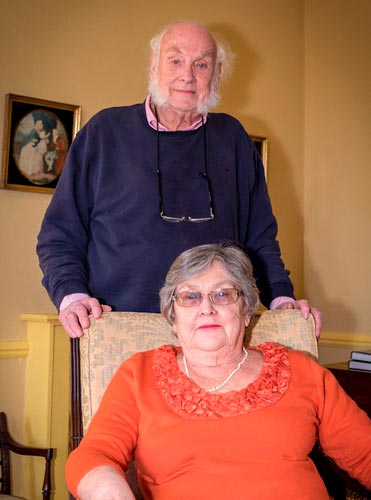 Jennifer said, "I've had droopy eyelids since childhood, however, as I got older I found it was getting progressively worse. The right eye was worse and I had to hold my eyelid up to watch television. My eyelids felt heavy and would worsen when I was tired. I hated that sometimes people would think I looked sleepy all the time or even drunk."

She decided to look into having corrective surgery. "It was not just about vanity, it was severely affecting my vision," said Jennifer.
Jennifer chose Spire Leeds Hospital, where she had undergone ELVR lung surgery for emphysema back in 2013 and her husband and several relatives had also had successful surgical procedures previously.

She was referred to Mr Bernard Chang, a consultant ophthalmologist at Spire Leeds Hospital, in June 2017. He explained the corrective surgical procedure to Jennifer and together they decided to go ahead with a blepharoplasty to lift and tighten the upper eyelid. Jennifer had the right eye done first and a couple of weeks later had surgery on the second eye.

Mr Chang said, "There are no other long-term solutions for ptosis, except upper lid surgery to strengthen and retighten the muscles (levators) that lift the eyelid. In Jennifer's case, her eyelids were so droopy that the top lid was covering her pupil and severely impairing her vision. If she had not had corrective surgery, her upper lid would have continued to drop down and eventually the pupil could be covered totally and she would not be able to see through that eye. Her problem was more than just cosmetic, as there was a strong functional element."

The condition may be present at birth or develop more gradually with age. It's more common in the elderly and can also be the result of an injury or stroke.
Jennifer underwent the surgery under a local anaesthetic and was conscious throughout the 45-minute procedure, which involved the removal of the loose skin before the levator muscle was tightened to lift the eyelid.

"The advantage of a local anaesthetic procedure is that you can check the lid lift and adjust the lift so that it's not too low or too high," said Mr Chang.
Jennifer was able to return home the same day and was supplied with eye drops to administer daily for the next few weeks. She is very happy with the results.

"I'm delighted the surgery has not only restored my sight, giving me back my ability to drive and to live my life to the fullest. It has also made me look younger and more wide awake. Yet it's a natural and subtle effect."