Adolescent sports injuries – comprehensive service at Spire Leeds
Many teenagers participate in sports activities in and out of school and like any athlete at every level, they can pick up injuries.
Whilst teen athletes sustain injuries at a similar rate to adults, the injuries affecting adolescents are different from those affecting adults, because they are still growing. It is important therefore that they are treated by specialists experienced in paediatrics, that is, those who are trained to treat children and adolescents up to the age of 18.
Spire Leeds is home to the region's largest team of consultants who are experienced in treating sports injuries. Working in partnership with the hospital's own nursing, scanning and physiotherapy teams, the specialists help return younger patients to full fitness and get them back to their sporting activities.
Teenage sports injuries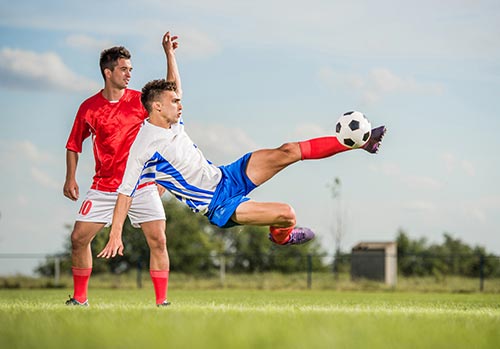 As children reach puberty and adolescence, they generally experience a significant growth spurt. This growth is usually uneven. The bones grow first and may pull excessively on the muscles and tendons, causing pain and inflammation. This uneven growth pattern makes teenagers more susceptible to muscle, tendon and growth plate injuries. The main types of injury tend to fall into two categories – acute and overuse injuries.
Acute injuries are caused by sudden trauma such as collisions, fractures, falls, sprains and strains. Overuse injuries tend to occur gradually over time either due to poor technique or when an activity is repeated so often, the body does not have enough time to recover between sporting activity. A stress fracture is a common overuse injury in young athletes.
Adolescents can also experience growth plate injuries. Growth plates are the last part of the bones to stop developing. Situated near the ends of the long bones, the growth plates are areas of cartilage which harden into bone once growth is complete. They are particularly vulnerable to fractures in contact or high impact sports.
Prompt medical attention
Regardless of whether an injury is acute or due to overuse, it is important that a teen who has developed symptoms is seen and examined by a medical professional to avoid any long-term damage or disability.
Treatment
The treatment required will depend on the individual injury but typical treatment includes physiotherapy, strength and conditioning, bracing, splinting or surgery.
Sports injuries treated at Spire Leeds include:
Stress fractures
Tendon and ligament injuries
Muscle tears
Sprains
Overuse injuries
Knee pain
Shoulder and elbow pain
Ankle, foot, heel and shoulder pain
Sever's disease
Osgood-Schlatter disease
Larsen-Johansson disease
Spire Leeds' specialist sports service for young people
At Spire Leeds we offer a comprehensive service – treating everything from growth plate and knee injuries to fractures and ligament damage. Our patients benefit from:
Consultations with leading consultant orthopaedic, musculoskeletal and sports medicine specialists
Flexible appointments including early morning, evenings and weekends
Rapid assessment, diagnosis, treatment and surgery (if required)
On-site MRI and CT scanning, ultrasound and X-Ray
GP referral not always required
No waiting lists – appointments often within 24 hours
Option to self-fund for any treatment for those without medical insurance
For more information or to book an appointment email info@spireleeds.com or call 0113 218 5977.