Spire Leeds Hospital opens new children's activity playroom
Spire Leeds Hospital recently celebrated the official opening of its new children's playroom.
The ribbon cutting ceremony was officiated by Professor Simon Kay, consultant plastic and reconstructive and paediatric surgeon at Spire Leeds Hospital. He was joined by members of the hospital's paediatric team, specialist children's nurses, staff and patients.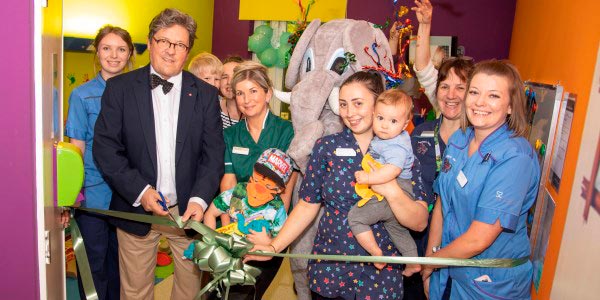 Families of children who have been treated at Spire were invited to the event and the children had a chance to explore and experience the exciting Safari-themed Playroom. The Playroom is designed to provide a pleasant environment for young patients aged between one and eight years old, before and after they receive treatment. During their hospital visit the children will be cared for by a specialist children's nurse and a play leader will be on hand to provide entertainment and fun activities.
Children attending the afternoon event enjoyed experimenting with the Safari-themed crafts and activities on offer as well as playing with the variety of toys in the Playroom. They were each treated to a snack box and a goody bag to take home.
Spire Leeds Hospital offers a wide range of children's services for babies and children. Its team of paediatric consultants provide specialist advice, diagnosis and treatment for a wide range of conditions. They are supported by the Hospital's dedicated team of highly experienced and caring specialist children's nurses.
Each of the hospital's private rooms in Spire's dedicated children's ward has en-suite facilities and a TV and is specially prepared for a child's admission to make the room feel as homely as possible. Beds are made up with colourful bedding and quilt covers, and a range of age appropriate toys are made available for children - both in their room and in the new Playroom - to occupy them with while in hospital.
Siobhan Brockley, newly appointed play leader at Spire Leeds said, "We are really happy with our new playroom. For many children it's their first experience of a hospital and it's important they feel our care from the first moment they arrive. It's our aim to create a friendly environment and this addition will enable us to improve the patient experience. It gives children their own space and a sense of control during what can be a scary time for them. Being able to play in a familiar environment helps to normalise the hospital experience. We hope it will prove to be popular among our patients and their families."