Mark Hills, Fellowship with the College of ODPs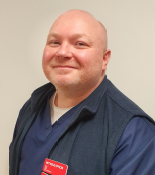 Congratulations to Mark Hills, Resuscitation and Critical Care Lead for receiving his Fellowship with the College of Operating Department Practitioners!

On 29 March 2019 the College of Operating Department Practitioners granted Mark Hills (Spire Hartswood Hospital's, Resuscitation and Critical Care Lead) a Fellowship of the college for his notable contribution to the profession.
Mark has worked in healthcare for 25 years and has spent 20 years of this time as an ODP gaining a wealth of experience. He has used his knowledge, skills and experience to educate other professionals within healthcare focusing on the field of resuscitation and patient care. With the qualities that he has accumulated over the years as an ODP, he has spent a lot of time volunteering providing care for those who need it and giving back to society.
Mark was deeply honoured and humbled to receive this award, which was a complete surprise! He hopes that he can inspire others to strive to do more and give back to this essential but elusive profession.
The College of Operating Department Practitioners is the ODP professions professional learned body, the college provides support and advice to its members and represents ODP's in all aspects of professional, educational and workplace matters. The college has membership on national committees, advisory groups and responds to consultations set by government, other professions and registrant bodies.
Operating Department Practitioners are highly skilled and essential members of the healthcare team and it's a role that has been in existence since 1945. ODP's are Registered Allied Health Professionals, regulated by the Health and Care Professions Council. They are mainly found in all three areas of the operating department but today's ODP's are branching out into other areas of healthcare like, A&E, Critical Care, Education and Management, to name but a few.
Fellowship is awarded to those who are members of the college and who have made an exceptional contribution to the profession and healthcare, Fellows may be called upon for their expertise and experience to assist in developing the profession.
A big congratulations to Mark!