Celebrating the local community for the third year running
Spire Harpenden Hospital are very pleased to have sponsored the Herts Advertiser Community Awards, Nurse/Care Worker of the Year category for the third year running. We were invited to attend the awards evening on Tuesday 3 September at the beautiful St Albans Museum and Gallery. The evening saw Julia Salmon, Hospital Director, present the award to the very worthy winners Keech Hospice Care's Childrens' Community Team.
One of our values is 'caring is our passion' this, along with the healthcare industry we are, means this award is a perfect one for us to sponsor. Keech work to provide free, specialist 24/7 care to children in their final days, as well as providing specialist support for their friends and family. Their care is not just provided at the hospice but in the hospital, school, care or the family home – wherever the child feels most comfortable. We are sure you'll all agree, they're very worthy winners.
We believe that all the individuals who regularly go above and beyond should be recognised and these awards are a massive step towards that. Spire Harpenden were honoured to share a room with so many inspirational and selfless people who have made such a positive impact upon so many lives. Hearing several moving stories across all categories from Young Achiever to Lifetime Achievement, it's a night that won't be forgotten.
Congratulations to all the worthy finalists and winners, Spire Harpenden are very proud to be associated with awards that not only recognise, but celebrate the wonderful achievements within our county. Thank you.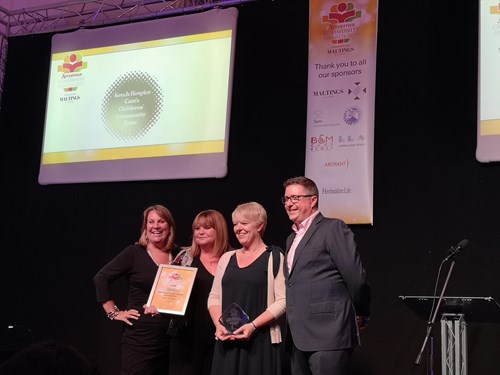 Julia Salmon with the winners, Keech Hospice Care's Childrens' Community Team and presenter David Croft.