Bunions: an exciting new treatment
Many of us live with bunions but may not know what solutions are available. Surgery is often thought of as painful, with a long recovery. Things could not be further from the truth with minimally invasive bunion surgery. With winter firmly here, the thought of squeezing into another pair of closed shoes with pain, is a thought too far. 
Having suffered with bunions for a long time, Jane from Hertfordshire opted for surgery with Mr David Gordon, Consultant Orthopaedic and Bunion Specialist, to ease her pain.
"They were becoming more and more painful (and ugly)," she says. "So I finally summoned up the courage to do something about them and visited Mr David Gordon, who specialises in minimally invasive (keyhole) foot surgery."
Minimally invasive bunion surgery is a relatively new technique which avoids large cuts in the foot and utilises several very small incisions instead, to correct the painful bunion. Smaller incisions mean less tissue damage, shorter operating time, smaller scars, less pain and swelling and a faster recovery. The surgery can be performed either with you awake or under general anaesthetic and an ankle block numbs the foot, so after surgery there is very little pain, if any is experienced. As minimally invasive bunion corrections are performed as a 'day case', you can walk out of hospital approximately five hours later. A surgical sandal is worn and there is no need for a plaster or crutches. As well as bunions, a wide variety of other foot conditions can be treated using minimally invasive techniques.
Jane adds: "I really should have taken the plunge years ago instead of putting up with my painful and embarrassing bunions. I'm now six months post-op, and my feet look wonderful with their lovely straight toes. I'm delighted with the results of Mr Gordon's expertise and with all the care I've received.
"Everything to do with the procedure was explained in a straightforward and reassuring way, and I immediately felt I was in good hands. For anyone contemplating bunion surgery, I can't recommend Mr Gordon highly enough."
Most people are eligible to have minimally invasive foot surgery, even those with very severe bunions. A consultation will allow you to discuss this in detail and decide which method of foot correction is appropriate for you.
If you're worried about your bunions, please call our self-pay team on 01582 788 412, to book an initial consultation with Mr Gordon. Alternatively, on Thursday 5 March we are holding a free patient information evening here at Spire Harpenden Hospital with Mr Gordon, where you can find out more and ask any burning questions. Secure your place today.
Visit The Bunion Doctor for more information and patient stories.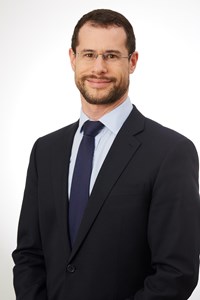 Mr David Gordon, Consultant Orthopaedic Surgeon
The Bunion Doctor