A 'magic moment' during an inspection at Spire Harpenden Hospital
Following an inspection, and an outstanding rating, here at Spire Harpenden Hospital we have received an Exemplar Award for our incredible cancer services.
Heartwood, our dedicated chemotherapy ward, opened in 2015 and is accredited with an 'Outstanding' Macmillan Quality Environment Mark (MQEM). Our multidisciplinary team including surgeons, oncologists, pharmacists and specialist nurses will ensure that our patients are as comfortable as possible during treatment. Patients benefit from a patient-centred approach, with individually tailored treatment plans led by specialist consultant oncologists. The team ensure the patients are looked after from the moment of diagnosis, throughout treatment and aftercare. It is important to us that patients feel safe, confident and reassured every step of the way.
As a result of the inspection, we have been highlighted for our 'highly cohesive team' and 'strong evidence of collaborative work' across the hospital. The findings also highlighted that we offer 'excellent additional physical and emotional support for the patients' such as the lymphedema service, Start and Stay Positive sessions, coffee mornings, art therapy, and bra and prosthesis fitting services.
Of particular note were some of the proactive methods in place to ensure that support groups are engaging and relevant to patients, asking them what topics they'd like to be covered. Patients are also signposted to local walking and fitness groups specific to the needs of cancer patients, as well as curative hospices and complimentary therapy. Several patients have been so impressed by the service that they had returned to provide free complimentary services to patients currently on treatment.
Our Cancer Nurse Support (CNS) service was also highlighted for excellence. Our Lead CNS had set up pre-assessment services to ensure that patients requiring CNS support are identified at an earlier point in the pathway. A bespoke pre-treatment pack had been developed which includes several local support documents including one leaflet on Cancer Associated Thrombosis which has been nationally adopted.
Vicky Bell, our Cancer Services Lead, also featured in the report and is a member of the national Cancer Services Working Group and SACT Spillage Steering Group.
Vicky said: "I'm really proud of my team, everyone is so dedicated and works extremely hard. Each member of the team loves their job, so providing the cancer services that we have comes as second nature and doesn't feel like work at all."
The inspection concluded that every patient spoken to provided extremely positive feedback and could not fault the service in any way. We are incredibly proud of the team at Spire Harpenden Hospital and will be proudly displaying this award in our reception area.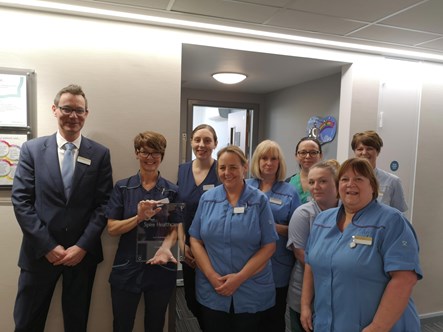 Vicky and the team receiving the exemplar award, presented by Dan Cyprus, Operations Director Spire Healthcare.