Spire Oncology Centre aids NHS cancer patients in time of need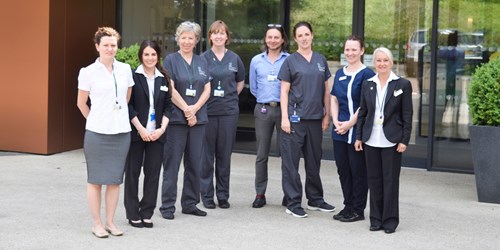 Hospital Director praises staff of Spire Oncology Centre for going above and beyond to help patients involved with last week's unfortunate NHS hospital fire.
On Thursday 10 May a fire broke out on the ground floor of the NHS Bristol's Haematology and Oncology Centre (BHOC). During the early hours of the morning fire crews were scrambled after being alerted by signs of smoke and alarms sounding from the centre.
Over 50 patients along with staff were evacuated from the building, which sits adjacent to the Bristol Royal Infirmary (BRI). Due to fast responses of staff and fire crews all persons within the building remained safe from any ensuing danger.
Due to smoke damage, NHS services will remain disrupted for some time. Management of the BHOC made arrangements for additional care to be provided to patients via a number of alternative private and public sector facilities.
Simon Milner, Director of Spire Bristol's private oncology centre, thanked his staff and praised their efforts for supporting the NHS throughout their time of need.
"What happened is very unfortunate, and we are thankful nobody was directly hurt by last week's events.
It's understandable that the services at the NHS's Oncology Unit will be disrupted for some time. At Spire Healthcare we are fortunate to have a dedicated Oncology Unit located right here in Bristol. As a result of the fire damage some NHS patients were transferred to our care last Friday." Explained Mr Milner.
The Spire Oncology Centre, which is located in Aztec West is one of few private oncology facilities within the South West. The centre has the capability to provide both radiotherapy and chemotherapy treatments to patients seeking care privately.
Last Friday following the news of the fire Spire Oncology Centre opened its doors to look after those patients that could not be cared for by the trust. 
"Our staff at the centre are dedicated to providing the highest quality of care and I must thank them for their efforts during this period, they are a credit to themselves and to the Spire Oncology Centre. They really have gone above and beyond to care for these additional patients.  
We are still treating some patients from the BHOC unit and will do so until normal service is resumed at the NHS."