A day in the life of a Hotel Services Assistant at Spire Bristol Hospital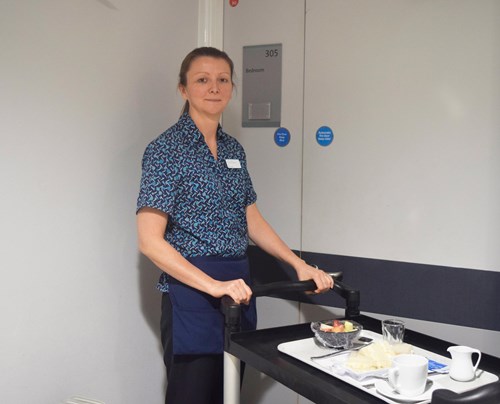 So what does being a Hotel Services Assistant at Spire Bristol Hospital really involve? Here we speak to Claire Tryner, Hotel Services Assistant, who explains what it's like.
The first time I visited Spire Bristol Hospital was as a patient in January 2019 when I was here for a knee arthroscopy with Consultant Orthopaedic Surgeon, Mr James Murray. The hospital had such a lovely atmosphere and all of the staff that helped to look after me were happy, friendly and caring. From the moment I was discharged from the hospital I was adamant I wanted to work at Spire Bristol.
At the time I was working as a dance teacher and had been for almost 20 years. I had fallen out of love with teaching and wanted a new challenge, but it was important to me that I was active and interacting with people on a day to day basis.
After this I kept my eyes peeled for any support services vacancies advertised on the website which is where I found my current role. I joined Spire Bristol as a full time Hotel Services Assistant in July 2019.
One thing I love about my role is that no two days are the same. One day I could be serving breakfast between 7am – 9am, greeting new patients and the next I could be on a later shift and speaking to patients who have just had surgery.
I and the rest of the Hotel Services team work a two week rota that includes a mixture of early, middle and late shifts and working every other weekend. If I am on an early I will start at 6.45am, a middle shift is 11.45am and late shift is 1pm. I like the variation in shift patterns and that I don't have to work a fixed 9-5. The latest that I can finish is roughly 10pm which I enjoy because I get to have a lie in beforehand (!) and meet the night staff.
If I am on the early shift I sit with the nurse in charge at 8.30am to establish which patients are staying in the hospital, going home or if there are any new admissions. Using the information from the nurse in charge we set out the paperwork for the early and middle shifts that day. This paperwork documents what is happening with each patient throughout the day so that the whole team is aware.
I can then structure service for breakfast, lunch and dinner to ensure patients are catered for at the appropriate times. I will then take orders from the patients on the ward to find out what they would like to eat. I love being able to interact with the patients, especially if they have no visitors, I like to think I have made a positive impact on their day.
Serving food is the busiest part of my shift and on average, as a team, we will serve around 20 meals over the space of an hour. These are three course meals so I get to visit each patient several times to serve each course followed by tea and coffee.
Towards the end of my shift the focus is on cleaning the pantry, washing up, mopping the floor and ensuring paperwork is ready for the next shift to begin.
Other than this, part of my role is also to maintain the coffee machine and tea area in the discharge lounge on the wards. This area is used by visitors and it is lovely to be able to chat with them and make them feel at ease as they wait for their friend or relative.
Want to work for us? Are you interested in this role? Apply for a Hotel Services Assistant role.