Spire Windsor Clinic MRI service moves to Spire Thames Valley Hospital
Spire Windsor Clinic is transferring its MRI services to Spire Thames Valley Hospital from 1 July 2018. To prepare for this we will no longer be accepting referrals for the Spire Windsor Clinic from 11 June 2018 onward.
The brand new Siemens 1.5T Magnetom Aera scanner at Spire Thames Valley Hospital is wide bore and significantly shorter than standard scan tubes (70cm wide with a length of 137cm) – indeed it is much wider than the scanner at the Spire Windsor Clinic – so there is plenty of room to move. And you can also choose from a range of mood lighting, play music of your choice or even play your preferred audio book during the scan.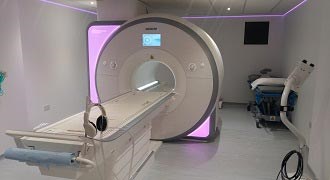 Some features of the Spire Thames Valley scanner:
•  Shorter scan times
•  For knee and feet examinations the patient will be almost entirely outside of the scanner
•  Capable of scanning patients up to 240kg or 37 stone
•  Full back up of a CQC registered hospital
Read more about our brand new scanner here.
If you would like to visit the scanning room prior to your scan, just give us a call on 01753 655 420 to arrange a suitable time and one of our MRI staff will talk and walk you through the scan and then advise you on the best options for you, as well as showing you the procedure you will undertake.
We do appreciate that this is a change of service. Spire Thames Valley Hospital is just 20 minutes from Windsor and the hospital has free on site parking.
If you would like to book you next scan with us, simply call us 01753 665420 – just make sure you have your referral letter to hand – and we can see you typically within a couple of days.