What is age-related macular degeneration (AMD) ?
Age-related macular degeneration (AMD) is a leading cause of vision loss. This condition may cause permanent loss of your central vision. It usually does not affect your side, or peripheral, vision. AMD affects your ability to see near and far and make some activities, like threading a needle or reading, difficult or impossible. However, it almost never causes total blindness.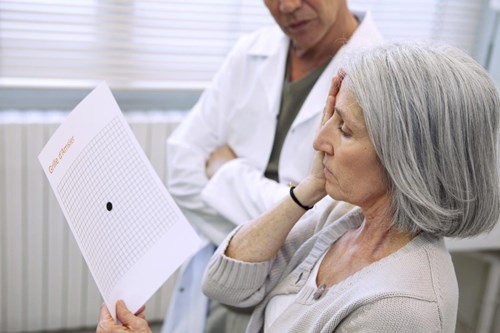 Symptoms of AMD
In its earliest stages, macular degeneration may cause the following symptoms:
Blurry distance and/or reading vision
Distorted vision, straight lines will appear bent, crooked or irregular
Dark grey spots or blank spots in your vision
Size of objects may appear different for each eye
Colours do not look the same for each eye.
How is AMD monitored and treated?
Unfortunately, at this time there is no single proven treatment for the dry form of AMD. However, scientific studies (AREDS) have shown that antioxidant vitamins and zinc may reduce the impact of AMD in some people by slowing its progression toward more advanced stages. New techniques such as intraocular telescopes and stem cell transplantation are really just experimental.
Treating the wet form of AMD may involve the use of laser, or anti-VEGF injections. Treatment of wet AMD generally reduces the risk of severe vision loss, but it does not eliminate this risk.
Vision rehabilitation
Vision rehabilitation can help people with AMD compensate for vision loss. People with low vision can learn new strategies to accomplish daily activities. These skills, including mastering new techniques and devices, help people with advanced AMD regain their confidence and live independently despite loss of central vision.

Mr Sundeep Kheterpal is one of our leading Consultant Ophthalmologists here at Spire Thames Valley. He has a special interest in macular disease and was a pioneer in the use of thermal diode laser treatments and an early adopter of photodynamic therapy laser treatments. Having been the lead in setting up the macular service in Windsor in the NHS, he has also been at the forefront of macular degeneration treatments at Spire Thames Valley Hospital, setting up and leading the "walk in,  walk out" treatment service for intravitreal injections. 
If you would like to learn more about any procedures or have any questions, please call us on 01753 665 404 or email us here.