Cataracts - your questions answered
Mr Sundeep Kheterpal is one of our leading Consultant Ophthalmologists here at Spire Thames Valley hospital. Here he answers your questions about cataracts and their removal.
What is a cataract?
Any change in the lens is called a cataract. The lens is situated just behind the pupil, inside the eye - similar to the yolk of an egg.
As a cataract develops, the lens becomes cloudy or develops opacities. Light rays cannot pass properly through the lens and the vision progressively worsens. A cataract is not a skin growing over the eye, as some people may think.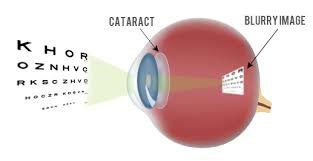 What are the symptoms of cataract?
Blurred vision is one of the main symptoms of cataract. Loss of detail, loss of colour resolution and even reduction of depth of field can all occur. Other people can get symptoms of multiple images in one eye or glare or halos, particularly at night whilst driving.

What causes cataracts?
Most cataracts occur as people get older. They may occur at a younger age if you have diabetes or inflammation in the eye. Some people are born with opacities in the lens and others may develop cataract as a result of injury or medication such as steroids.

When does a cataract need surgery?
Although a cataract can impair vision, it does not usually, except in rare cases, cause permanent damage to the eyeball. Therefore it is not usually a medical requirement to have an operation. Many people can manage perfectly well in their everyday lives and doing nothing may be the best option for them.

Often, unless the cataract is quite dense, stronger glasses can help and it is normal to have seen an optician for an up to date eye test before considering surgery. When your vision is poor enough to prevent you doing the things you like to do or need to do, you may need cataract surgery. If you are having problems with driving, sports or everyday activities, then that is the time to consider surgery.

Cataracts can change the spectacle prescription of the eye and surgery may be considered if this causes a problem with balance. Just as a cataract impairs your sight out on to the world, it also impairs the view that an ophthalmologist has into the eye. 
What's does the procedure involve?
Cataracts can usually be removed in a straightforward procedure lasting 20-45 minutes. We use a technique called "Phacoemulsification" to perform a small incision lens extraction. Small incision lens extraction makes a tiny wound measuring 2.2mm or less to remove the cataract an injected lens implant is then inserted and the wound does not usually require a stitch. The small self-sealing incision allows rapid rehabilitation following the surgery.

The vast majority of lens operations are carried out under local anaesthetic without needles so you are not asleep. Some patients may prefer a general anaesthetic or a sedative. We do our best to reduce worries and anxiety during the experience and modern anaesthesia usually produces a pain-free experience.
Will I need glasses after surgery?
Probably. You will need to change your glasses following cataract surgery. This will be usually after 3-4 weeks so it is sensible to make an appointment with your optician at that time. If you are having an operation on the other eye then you can either change one spectacle lens or wait until both eyes have settled.

Following surgery with a standard lens the eye loses the ability to focus. If following the surgery, you have perfect distance vision, you will be unable to read without reading glasses. Conversely, if you can read perfectly without glasses, you will need glasses for television, driving and long distance.

If you have monovision, accommodative or multifocal lenses you may be able to manage without spectacle for most tasks. It may take a few months to get completely used to these type of correction.

Whatever the type of surgery or lens, some patients will still need a small correction for long vision, reading or intermediate vision (such as television or playing music). If stitches have been used (rarely), you may need to have the stitches removed before glasses can be prescribed.
Modern cataract surgery is one of the most successful modern surgical procedures and the majority of people have an excellent outcome. Mr Sundeep Kheterpal is one of our leading Consultant Ophthalmologists here at Spire Thames Valley Hospital. If you would like to learn more about any procedures or have any questions, please call us on 01753 665 404 or email us here.