New MRI Scanner at South Bank Hospital
A new MRI Scanner that allows nervous patients to watch DVDs while they are being scanned has been unveiled at Spire South Bank Hospital in Worcester.
The Philips Ingenia 1.5T has the very latest image technology, producing clearer images even when body movement is taken into account.
Unveiling the scanner at an event attended by various surgeons, physiotherapists and osteopaths, Consultant Radiologist Dr Umesh Udeshi described it as a major boost for healthcare services in the region.
He said: "Motion can be a major challenge when taking a scan – in many areas of the body there is nothing you can do to prevent natural movement – but this scanner can actually produce 'motion-corrected' images with high resolution which means we can get excellent result quickly."
But - aside from science and technology – the scanner is going to be welcomed by those worried about the 'claustrophobic' nature of lying in the tube during scanning.
"People who are a little nervous can, thanks to the use of specially-placed mirrors - actually watch a film while their scan is taking place," said Imaging Manager Michelle Poulson.
"We have a variety of short films or they can actually bring a DVD of their choice – it just helps them to relax and have a more enjoyable experience."
Hospital Director Simon Milner added: "The entire scanner project has cost around £1.5m - money well spent, as it means an impressive improvement of our imaging capabilities which is good news for patients and consultants alike."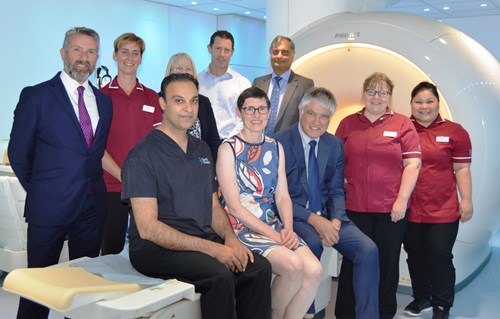 Pictured at the opening ceremony.
Back row (from left): Simon Milner (Hospital Director), Michelle Poulson (Imaging Manager), Julie Wild (Matron), Dr Gavin Nicol (Consultant Anaesthetist), Dr Umesh Udeshi (Consultant Radiologist)
Front row (from left): Mr Nadim Aslam (Consultant Orthopaedic Surgeon), Miss Rachel Bright-Thomas (Consultant Breast Surgeon), Mr Michael Trevett (Consultant Orthopaedic Surgeon), Helen Lippitt (MRI Lead), Cecille Masong (Senior Radiographer)