Hello my name is Sara and I am a Healthcare Assistant in the outpatients department at Spire Regency Hospital, Macclesfield.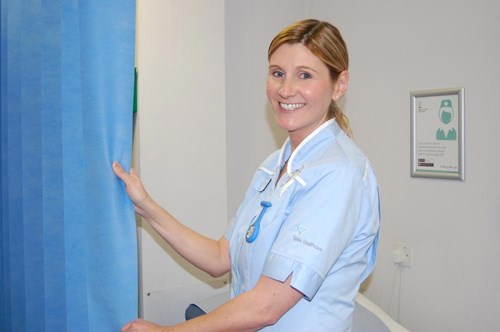 Hello Sara!  How long have you worked at Spire Regency Hospital and what was your background previously?
I have worked for the Spire Regency for four years now in the outpatients department. I previously worked as an Orthodontic Dental Nurse for 14 years in Macclesfield.
What made you want to be a Healthcare Assistant?
I was looking for a new role with new challenges but still working with patients in a clinical field. The job role in outpatients at Spire Regency Hospital has enabled me to successfully complete my NVQ Level 3 in Health & Social Care.  I have also trained in Phlebotomy and attended a wound care course, along with my training to be part of the bariatric and varicose vein teams. 
What makes you proud to work at Spire Regency Hospital?
I feel really proud of my own achievements at Spire Regency Hospital but could not have done these without the support of my colleagues, the fact we work as a team and everyone is important at the Regency whatever your role is. I am currently joining the preoperative team and have the opportunity to work on the ward and visit the operating theatres.  This is a great chance to meet, work with and experience how other teams within the hospital work.  Most recently I have been appointed and very proud to be Spire Regency's Freedom to Speak Up Guardian and will represent the whole hospital within this role.
And finally, what's your hidden talent?
Not sure how hidden it is but I love health & fitness.  Outside of my work role,  I am a qualified Zumba Fitness Instructor and have attended the London Academy, meeting Beto the creator of Zumba!
Spire Regency Hospital Macclesfield is joining a massive social media movement. Hello my name is… is a campaign launched by Dr Kate Granger MBE and her husband Chris Pointon to encourage and remind all staff to go back to basics and introduce themselves to patients properly.
Our aim is to give patients and those close to them the highest possible standards of care and we are delighted to support this campaign, which further highlights the importance of patient centred care and treating patients as people.