Golfers elbow: signs and solutions
With the Masters in full swing, our physiotherapist Richard Gregory talks us through the symptoms, causes and treatment methods for golfers elbow.
What is it?
Golfers elbow, or medial epicondyalgia, is a painful injury affecting a tendon on the inner-side of the elbow. The tendon affected connects the muscles in the forearm to the inner of the elbow (medial epicondyle). These muscles are responsible for movements of the wrist and play an important role in gripping actions; consequently it can be a debilitating condition for golf players.
What are the symptoms?
If you've had golfers elbow before you'll be familiar with the localised pain on the inside of the elbow which sometimes radiates into the forearm. Usually this pain can be recreated by palpating around the inside of the elbow. During a game you might notice that your grip is both weak and painful and that your strokes are more painful. Nevertheless, it will probably be the day or two following that you really notice it rather than the game itself.
What causes it?
This is typically an overuse/overload condition, causing the tendon to become painful and 'reactive' and develop into what is known as a tendinopathy. This usually occurs due to repetitive use of the forearm muscles from the excessive gripping and wrist movements involved during a round of golf. The tendon becomes sore and 'reactive' initially, and ultimately starts to become weak due to microscopic tearing as the condition progresses.
What should I do if I suspect golfers elbow?
Don't ignore it! The most common mistake made with golfers elbow is that people ignore it and play on regardless. If you suspect golfers elbow you can potentially nip the condition in the bud by taking one to two weeks rest from golf and reducing all aggravating activities ie gripping and lifting. Playing on despite your pain can just aggravate the condition further and cause it to become more painful. If you have tried a decent rest and you are still in pain, it's time to see your physiotherapist!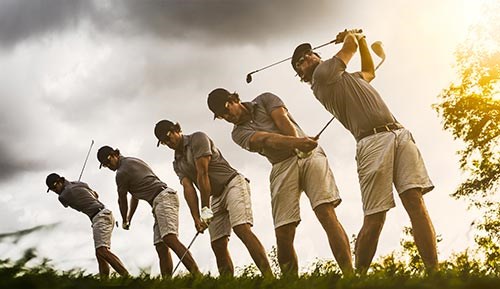 Physiotherapy for golfers elbow
Physiotherapy for golfers elbow offers a range of different techniques to help reduce your pain and help you return to golf as soon as possible. These may include:
Advice and education
Strength and conditioning of the tendon
Manual therapy
Taping/strapping techniques
Sports rehabilitation
If you suspect that you have golfers elbow, call 01625 507447 to book an assessment with one of the Spire Regency Hospital specialist physiotherapists.
The content of this article is provided for general information only, and should not be treated as a substitute for the professional medical advice of your doctor or other health care professional.