Spire Portsmouth Hospital celebrates Patient Safety Award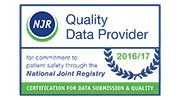 Spire Portsmouth Hospital has received a top patient safety award from health watchdogs the National Joint Registry (NJR).
The award is in recognition of high standards of patient safety achieved in orthopaedic surgery on hips, knees, ankles, elbows and shoulders.
Certification is designed to offer hospitals reporting to the NJR a framework for reaching patient safety standards and highlights the fact that 'better data ultimately equals better care'. 
On receiving the award Hospital Director, Heather Dob said: "Improving patient safety is of the utmost importance at Spire Portsmouth Hospital. We all take this aspect of healthcare delivery very seriously and are extremely proud that our efforts have been recognised.
"We have now been named as a NJR Quality Data Provider which demonstrates we are collecting the most complete and accurate information possible, helping the NJR form many of their decisions regarding quality of care and patient safety as well as overall cost effectiveness of joint replacement surgery."
Data is collected in order to provide quality, robust evidence to support decision-making in regard to patient safety, standards in quality of care and overall cost effectiveness in joint replacement surgery.  It is currently the largest registry of its kind in the world.  
The NJR Medical Director Martyn Poster added, "It is clear that, for surgeons and patients alike, the necessity for quality data is an absolute requirement. This award demonstrates the high standards being met by Spire Portsmouth Hospital."
Find out more about Spire Portsmouth Hospital.