Behind the scenes with Gary West
Meet the team: Gary West, Senior Engineering and Estates Manager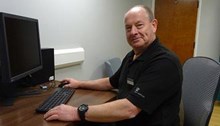 "Having trained as an Electrical and Mechanical engineer within the construction industry, I am now the Engineering and Estates manager at Spire Portsmouth, a role which I have held for some eight years. Moving from the construction industry into healthcare was a real learning curve for me but one that I enjoyed with the support of Spire, who have continuously invested in me along the way with training programs.
"My team's primary role is to keep all patients, visitors, and staff safe whilst within the hospital and the surrounding grounds. This includes safe water systems, clean air quality and the maintenance of all medical equipment, to name but a few! I am also the fire officer here and carry out training for all staff on security and health and safety, ensuring that Spire Portsmouth is a safe environment to work in with a focus on patient safety.
"I love the fact that every day is different in my role and enjoy working in a multidisciplinary team, which includes external contractors. It also helps that we are well received throughout the hospital with smiles from the staff.
"After every day, there's always a sense of achievement that enables me to relax and enjoy my family time. Ever remembering what my mentor once said to me, 'engineering is the closest thing you'll get to magic!'"
You can find out more about Spire Portsmouth and our services here